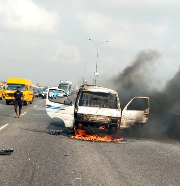 CITIZENS COMPASS – MANY occupants of a Toyota Hiace bus escaped been burnt to death on Tuesday, as the bus suddenly went up in flames while on motion.
Eye witnesses' account said the incident occurred at about 9.50am when the bus was heading for Lagos Island.
A video of the scene made available to Citizens Compass saw road users scampering for safety as there was traffic gridlock at the opposite direction.
The situation was brought under control by men of Lagos State Fire and Rescue Services.
However, the bus was completely razed.
Men of Lagos State Traffic Management Authority (LASTMA) and the Nigeria Police were on ground.