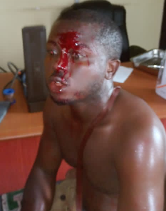 CITIZENS COMPASS– MANY people were injured on Wednesday, during a clash involving some traders at Alaba International Market in Ojo area of Lagos and some park managers in the area.
The incident occurred when the traders protested daily extortion by the park managers.
Citizens Compass gathered that the park managers who were members of Road Transport Employers Association of Nigeria (RTEAN) had been collecting tolls at the entrance of the market especially from drivers who transport goods to the market.
This was said to have brought about increase in the prices of goods and services in the market which was vehemently opposed by the traders.
One of the traders, Samson Meje who spoke with Citizens Compass on phone said the each driver paid N4,000 daily to the Area Boys.
This was protested on Wednesday which resulted into pandemonium and many were injured in the process.
It was gathered that sticks, broken bottles and arms were freely used by miscreants who took advantage of the clash.
However, men of Rapid Response Squad (RRS) were deployed to the scene.
Lagos State Commissioner of Police, CP Abiodun Alabi has since visited the scene.