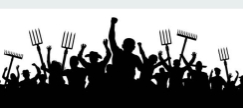 General News
Mob beats UI graduate to death for allegedly stealing bread
CITIZENS COMPASS – A mob has unleashed terror on a graduate of University of Ibadan beaten him to death for allegedly stealing a loaf of bread. 
The first- class graduate, Opuofoni Freeborn Ebimotimi, met his untimely death on Tuesday. 
Until his death, the graduate of Business Administration (B.Sc), hails from the Korokorosei community in Southern Ijaw Local Government area of Bayelsa State. 
Problem starred in the early hours when some enraged youths pummeled him relentlessly, ultimately leading to his demise.
It was learnt that despite the pleas of concerned neighbours and friends who rushed to the scene, offering to compensate for the stolen bread in two folds, the mob disregarded the entreaties and executed their brutal punishment.
Idisemi, the grieving younger sister of the deceased, bemoaned the injustices their family has endured since their father's demise.
She expressed bewilderment as to what could have driven her brother to resort to stealing bread, explaining that they had become accustomed to a life marked by hardship and deprivation.
Moreover, she lamented the inability of their prosperous uncles, who hold influential positions in government and elsewhere, to extend helping hands during their moment of hardship.