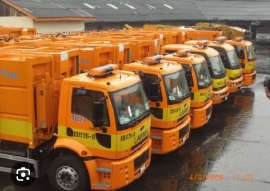 Community
Mobile court sentence 19 to community service
CITIZENS COMPASS —The Lagos State Magistrate's Court in Oshodi has arranged 19 persons for indiscriminate waste disposal across the State.
The Lagos Waste Management Authority (LAWMA), disclosed in a statement on Monday, saying the crackdown on environmental offenders was part of a concerted effort by the agency to enforce environmental laws and promote a culture of responsible waste management in the state.
The agency, which gave the names of offenders that were fined by the court, noted that 19 persons were arraigned before the court.
LAWMA added that 24 individuals were also brought before the court in a separate case for indiscriminate waste disposal.
After careful consideration, 19 of them were ordered to carry out community service, involving thorough cleaning, grass cutting, and sweeping of the Oshodi Isolo Local Government community. Additionally, five minors were warned to desist from improper waste disposal or face possible action in Juvenile Court," the agency stated.
It was reported that an Ikoyi Magistrates' Court, last week, sentenced 26 persons to community service with an option of N30,000 fine each.
LAWMA said the court imposed a fine of N30,000 each on a total of 51 persons within the week, with an option of community service, for reckless waste disposal, at different locations in the state.
The Managing Director/Chief Executive Officer LAWMA, Dr Muyiwa Gbadegesin, commended the court's resolute stance in combating environmental offences, reiterating the state government's zero-tolerance policy for indiscriminate waste disposal.