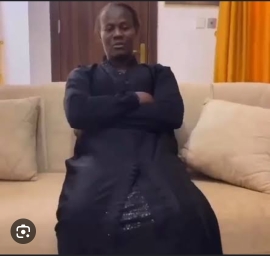 News
Mohbad's mother opens up 
CITIZENS COMPASS —Mother of the late Afrobeat artiste, Mohbad, has disclosed the reasons why she kept her identity as his mother hidden from the public eye.
Mohbad's mother revealed that she was acutely aware of the challenges, assaults, and bullying her son faced throughout his life. 
According to the bereaved mother, Mohbad had lived in constant fear and had even believed the attacks had ceased, only to be subjected to a severe beating during his last Extended Play (E.P.) project.
In her heartfelt account, she explained that she refrained from publicly acknowledging her relationship with her son to protect her safety. 
She expressed concerns about the threats against his life, which extended to her well-being.
In her words, "They went to shoot E.P., they beat him. I begged him to mention the names of those that beat him but he didn't. I did not mention to anyone that I was his mother because he was scared I'd get kidnapped."
She went on to reveal the extent of Mohbad's support for her, sharing that he had provided her with a home for five months and had visited her on three occasions. Additionally, he had rented three shops for her. Tragically, on the day he passed away, he had promised to send her N5 million.
Mohbad's mother painted a poignant picture of her son's life, indicating that he had lived in constant fear and had even reported incidents to the police on two separate occasions.