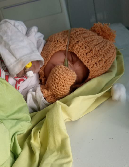 CITIZENS COMPASS– RESIDENTS, passersby and sympathisers on Friday, reigned curses on a yet-to-be identified mother who reportedly dumped her day-old baby at a dumpster, in Ikoyi area of Lagos.
The beauty of it is that the baby was alive when found by officials of Lagos state Waste Management Authority (LAWMA), while evacuating waste in a street.
Spokesperson, Lagos State Police Command, SP Benjamin Hundeyin, confirmed this in his tweets on Friday.
He said that at about 10 a.m. on Thursday, LAWMA officials went to the Ikoyi police division to file a report on the discovery of the baby.
Hundeyin said the baby was wrapped in
a polythene bag when the officials picked the baby up.
"The officials reported that they were on their routine duty of moving wastes around the Ikoyi area, when they discovered the newly born baby wrapped in a polythene bag.
"A police team led by the Divisional Crime Officer rushed to the scene.
"The baby was rushed to Military Hospital, 81 Division, Dodan Barracks Ikoyi for medical treatment before taking the child to Motherless Baby Home," he said.
The image maker said that but for the quick detection by the LAWMA officials, the baby would have died.
Hundeyin further said that the baby was doing fine, stressing that investigation on the case has begun.
"Infanticide is a crime and punishable," he warned.
Some well-meaning Nigerians have since signified interest to adopt the baby.
The Godfather JP said, "Please if the baby is a boy, I'd love to know … I won't mind adopting him."