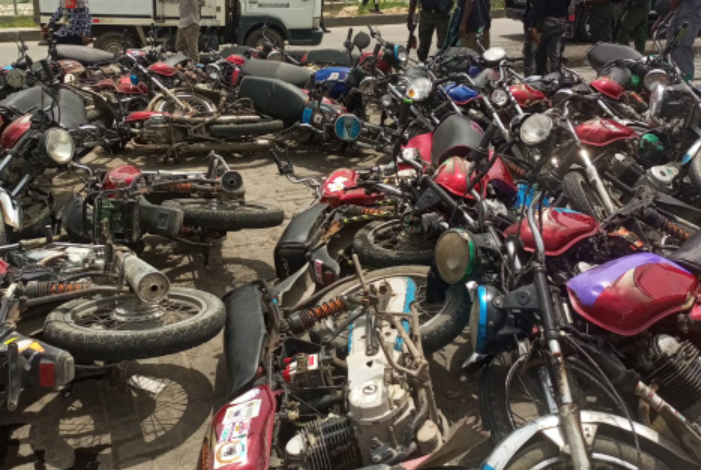 Community
Panic as Okada riders, Police clash over ban
THERE was panic in the Ojo area of Lagos, on Thursday,  as commercial motorcyclists (Okada riders) have clashed with Police operatives in a bid to enforce the total ban of motorcycles in the area.
Lagos State Governor, Babajide Sanwo-Olu had announced the ban of motorcycles in five local government areas of the state in which Ojo Local Government Area is part of them.
This followed the lynching and burning of a sound engineer; David Imoh, in Lekki area on Thursday, 12 May, 2022.
Pandemonium starred at about 9am, on Thursday, 19 May, 2022, when some commercial motorcycles plying the Mile Expressway, were impounded by the Police but were resisted by the motorcyclists.
It was learnt thar the Police gained an upper hand and moved the seizures to Onireke Police Station
Eye witnesses' account said in protest, the motorcyclists mobilised and stormed the Police station to forcefully recover the seizures by throwing pebbles at the Police and this resulted in a clash.
They were however dispersed by the Police.
An eye witness, Mr Oloyede Abidemi said the angry motorcyclists barricaded the  expressway and made bon fire thereby disrupting economic and transport activities in the area.
Abidemi said he was among those that scampered for safety.
Earlier in his tweet, Lagos State Governor, Babajide-Sanwo-Olu had twitted;
"We have advised the police to enforce the order without compromise, and we would not condone any security formation that relaxes the new ban in its jurisdiction.
"Residents patronising Okada riders on highways should embrace alternative transportation schemes already provided…"