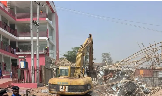 CITIZENS COMPASS– Many People were reportedly trapped on Thursday, under the rubbles of a two storey which collapsed on at 7th Avenue, Gwarinpa in the nation's capital, Abuja.
Unconfirmed reports said two persons were confirmed dead, 40 persons were injured and seven rescued during the recovery operation.
The Director, Department of Development Control in the Federal Capital Territory Administration FCTA, Mukhtar Galadima, confirmed the incident to our Correspondent.
The scene has since been cordoned off while post disaster assessment will be conducted by emergency responders and security personnel.
One of the victims of the building collapse Gabriel Sentem said the building gave way when nobody expected it. ''It collapsed gradually and trapped many people but some of us escaped being trapped.''
The Thursday incident was the second major building collapse within a space of five months in Abuja metropolis.
Recall that on Friday, August 26, 2022, two persons were confirmed dead after a storey building collapsed in Kubwa satellite Town, Abuja.
The building which was under construction was said to have collapsed at Hamza Abdullahi Street, Off Gado Nasco road.