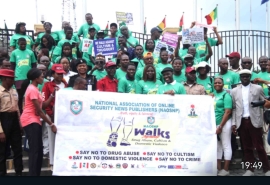 Community
NAOSNP partners NDLEA, Police to renew war against drug abuse, cultism, domestic violence
.. as Lagos CP flags off Advocacy Walk
CITIZENS COMPASS –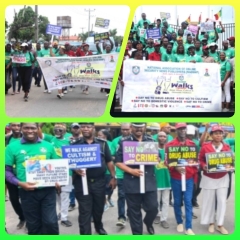 WITH renewed war declared against drug abuse, cultism and sexual violence on Tuesday, June 20, 2023, by the National Association of Online Security News Publishers (NAOSNP) in partnership with the National Drug Law Enforcement Agency (NDLEA) and Lagos State Police Command, perpetrators are likely to find the State inhabitable unlike before.
The war was renewed at the flag off of NAOSNP Advocacy Walk which was flagged off by Lagos State Commissioner of Police, CP Idowu Omohunwa at the Lagos State Police Command Headquarters, Ikeja area of the state.
The Walk titled, NAOSNP Road Walk Against Drug Abuse, Cultism and Domestic Violence", commenced at the state police command and terminated at theLagos State House of Assembly with many online journalists, friends and well wishers in attendance.
Also in attendance were representatives of NDLEA ably represented by DCN Kazeem Makinde on behalf of Lagos State commander of the agency.
Representatives of Federal Road Safety Corps (FRSC), and Lagos State Domestic and Sexual Violence Agency ((DSVA) were also in attendance.
Addressing the participants at the take off venue, CP Omohunwa who was represented by his Deputy, DCP Bassey Ewah expressed delight at the Walk.
He said his doors are open to the association.
"CP Owohunwa has adopted new tactics in dealing with cultism. Our area command's are dealing with arrested suspects. With our intelligence driven police system.in.lagos, we are going after them in their various homes, families , so that they will not be able to assemble to cause problems for the society.
*The Lagos state government has done fantastically well in the aspect of handling human rights violations. In all our area Commands and police stations, we have domestic violence desk. The CP is currently building a home for people suffering from domestic violence.
"With the partnership with the Lagos State government, and with officers trained by Lagos state agencies, our focus is to help women who have issues and out of abusive relationships." Said the CP.
Also speaking, a representative of NDLEA Commander, Lagos State, the Deputy Commander of Narcotics, DCN Kazeem Makinde assured that the agency will not rest on its oars until drug abuse is nipped in the board.
According to him," Whoever that is into drugs and drug trafficking, we would not let them alone; we must go after them because the matrix of Buba Marwa is a moving train that if you want to cross it, you will be crushed,"
He called for synergy among sister agencies saying," We are winning the war Against drug abusers and traffickers but it requires synergy among all sister agencies in Lagos and people in the society to ensure that the war against drug abuse is won because if you see something, say something.
Calls for support from state government
" Those using the drugs are considered to be sick people. The best we can do for them is to reach out to them and rehabilitate them. However, we need Lagos State government assistance in getting us a befitting rehabilitation center.
"The facilities we have at Gbagada is overstressed and we have limited space to accommodate users. So many people are applying to bring users in their families, we are turning them.down.because we have limited space to accommodate them."
Earlier, NAOSNP President, Mr Samson Oki while mentioning the rationale behind the Advocacy walk said the association was glad to organise the programme, "NAOSNP Road Walk Against Drug Abuse, Cultism and Domestic Violence" a public enlightenment and sensitization road walk in Lagos, held today, Tuesday June 20, 2023.
"Sir, you will agree with us how worrisome it has become that 1 in 3 women and 1 in 4 men, according to statistics, have experienced some bluetooth on form of physical violence by an intimate partner. This includes a range of behaviors (e.g. slapping, shoving, and pushing). 1 in 7 women and 1 in 25 men have been injured by an intimate partner.
" Again, data obtained from the Lagos State Domestic and Sexual Violence Response Team (DSVRT) showed that in 2021, the agency dealt with 2,584 domestic and sexual violence cases for adults, out of which women were the greatest victims with 2,349 cases. This is excluding other high rising social vices, which are direct consequences of cultism and misuse of harmful drugs among the youths.
"It is against this backdrop that we, as concerned security and safety conscious media association, deem it worthy to stage a public awareness/sensitization and enlightenment road walk with  theme: "NAOSNP Walks Against Drug Abuse, Cuitism and Domestic Violence."
"Sir, we recognise your position in this state as the Chief legislator, and we believe that with you as a Partner in this all important business of sanitizing our society, we all are coming out better.
" Consequently sir, we are using this opportunity to request more legislations that will guide against drug related offences, cultism, which has reduced our youths to death waiting to happen, and domestic and sexual violence against men, women and children. "
Speaking with Citizenscompass, some of the participants said the road walk was worthwhile as it afforded them opportunity to network.