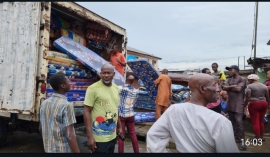 Community
Okada rider swept away by Lagos flood
… CDAs donate relief items to victims 
… residents relocate to safer areas
CITIZENS COMPASS —A commercial motorcyclist popularly known as Okada rider was on Saturday, September 16, 2023, swept away by flood at Ile-Epo, in the Alimoso Local Government Area of Lagos State.
This occurred after the downpour which started overnight and lasted till about Noon thereby paralysing many activities in the State. 
It was gathered that the downpour resulted in flooding which overflowed drainages and canal in somw parts of the State. 
The tragedy occurred when the Okada rider simply identified as Mr Abe was said to have refused warnings from his colleagues to avoid riding the bike along the Ile-Epo bus-stop canals. 
He was said to be instantly swept away by the ravaging flood. 
Citizens Compass reports that some areas like Ikorodu, Ago Palace Way, Lagos/Abeokuta Expressway, Lekki/Ajah, Ibeju-Lekki, Lagos Island and Oko-Oba among other areas were submerged in water such that some residents have vacated their abode for fear of being swept away by flood. 
The Coordination, Lagos State Territorial District of National Emergency Management Agency (NEMA), Ibrahim Farinloye confirmed the weekend tragic incident in a statement. 
"One motorcycle rider simply called Mr Abe was swept away after refusing to heed to warnings from his colleagues not to ride along the Ile Epo Busstop canals in the Alimoso Local Government Area of Lagos State and subsequently swept away.
" Further to the flood affected populations at Papa Ashafa, Fashola communities, NEMA along with the Disaster Management Unit of the Nigeria Police, team of the Nigeria Police Force from the Dopemu Divisional Police Station, Lagos State Neighbourhood Security Corp (LSNSC) in conjunction with the Community Development Associations of Papa Ashafa, Fashola and others have distributed emergency relief aid to the flood impacted communities."
Earlier, Farinloye had cautioned Lagosians to be conscious of the flooding occasioned by the downpour. He said," NEMA has appeal to the residents of Lagos State to take utmost precautions as the rainfall which started as early as 0200 hours may likely continue till 13hours before it stops.
" NEMA and other emergency agencies are on assessment exercise at some flash points, discussions with affected populations and proferring imeediate solutions in handling the situations.
" Some vulnerable group have moved to temporary save facilities while the adults are salvaging their water impacted properties.
" NEMA is assisting the owner of a building that the fence collapsed and the need to salvage the building by reconstruction of the fence to solidify the base to prevent it collapsing on the next bungalow building.
" In addition, children wears, women wears, mattresses, antiseptic and other immediate assistance to the impacted population at Orile Agege Local Government Area to provide immediate succour to about 200 people this afternoon and materials are been loaded currently"