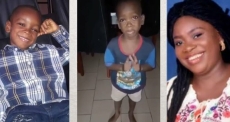 Articles
Neighbours met husband of "Mummy calm down" on her corpse – Police 
… CP orders investigation 
CITIZENS COMPASS —New twists have emerged concerning the purported suicide of the woman in a viral video of 'Mummy Calm Down,' Toluige Olokoobi Babalola, as the Edo State Police said reports from the widower and those of his neighbours were contradictory.
Spokesperson, Edo State Police Command, Chidi Nwabuzor, who spoke about the issue, yesterday, in Benin City, said the account of the husband of the deceased, Mr Lawal, and that of his neigbhours differed.
Nwabuzor also said this has made the State Commissioner of Police, Muhammed Adamu Dankwara launch an investigation into the issue.
According to the spokesperson, "On the 8th of November 2023, the husband by name Lawal, reported to the Evbuotubu Division in Benin City, Edo State, that he returned from the market and met his child of two years old by the name Ife Lawal crying.
Immediately he burst the door open and saw the wife on a rope tied to the ceiling so he loosed it and cried out to the neighbours who came and accompanied him to the hospital where the wife was confirmed dead and immediately deposited at a hospital mortuary in Benin City.
"Thereafter, he went to the Evbuotubu police station to report the incident, the DPO while responding to that case went with his operatives to the house where they recovered the rope and suicide note allegedly written by the late woman."
He further said, "From there, the DPO followed him to the hospital to check the body of the deceased if there was a mark of violence. With all diligence, the DPO checked and there was no mark of violence.
Based on this, the Commissioner of Police, Edo state CP Muhamed Adamu Dankara directed the DPO to immediately transfer the case to SCID for further investigation.
"There are issues alleged and there are so many sides of the coin, the husband said the neigbhours came upon his outcry and helped him to lose the woman.
"The neighbours are saying 'No! We did not know anything about loosing the woman. When he shouted, we came and met him lying on top of the woman.
"There are so many issues, that is why the Commissioner of Police in his wisdom ordered an investigation.
More so when there was a report from the DPO that there was no mark of violence, one would have expected in all truism that the woman had died of hanging, the mark of the rope will be there, that is the mark of violence we are talking about so he is under investigation."
Recall that the woman and her son became social media attractions following a video showed the little boy on his knees in 2020 frantically begging his mother after offending her.
In the video, the little boy was seen crying and begging his mom to 'calm down and rest a little' before taking any action against him