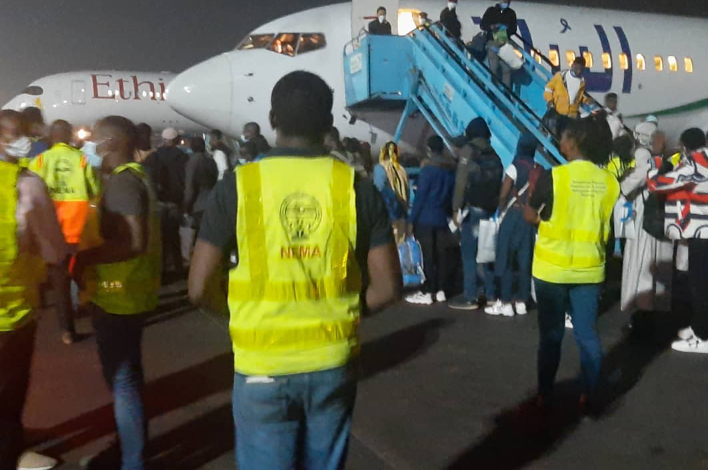 NATIONAL Emergency Management Agency (NEMA), has received another batch of 167 stranded Nigerians from Libya.
The Returnees arrived at the Cargo Wing of the Murtala Muhammed International Airport, Ikeja at about 11.08pm on Tuesday under the Voluntary Assisted programme.
The Director General of the Agency, Alhaji Mustapha Habib who received the Returnees on behalf of the Federal Government admonished them to look beyond seeking greener pastures in foreign lands that no longer exist there. 
The Returnees landed at the airport onboard Boeing 737-800 Al Buraq Air with registration 5A-DMG.
Their Profiling reveals 65 adult females, three female children and five infants making a total of 73 females while male adults are 76, male children are 11 and male infants are 7 making a total of 94 males. 
Alhaji Habib advised them to look inward towards making the best use of abundant resources abound in Nigeria in order to utilise their potentials.
Also on ground was NEMA Lagos Territorial Office Coordinator, Ibrahim Farinloye who assured them that the Federal Government is conscious of the aspirations of the youths by providing enabling environment where everyone will achieve his/her full potential.
Other agencies on ground were the National Refugee Commission, Nigeria Port Health, Police, FAAN and Nigeria Immigration Service.