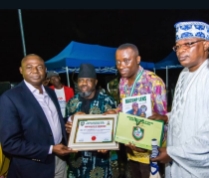 Security
Nigerian Army 9 Brigade gets new Commander as Brig Gen Edet takes over from Brig Gen Akpaumontia
… NAOSNP presents Award of Excellence to outgoing Commander
By Bose Adelaja
CITIZENS COMPASS – A new visitor to the Nigerian Army, 9 Brigade, in Maryland, Lagos State, on Friday, May 5, 2023, would assume that the Batallion was marking a national Independence Day following the array of programmes lined up for the handing over ceremony as outgoing Commander, 9 Brigade, Brigadier General IE Akpaumontia handed over to his successor, Brigadier General NJ Edet.T
The event kicked off with a dinner on Thursday. May 4, 2023 and this was graced by Lagos State Commissioner of Police, CP Idowu Omohunwa and other dignitaries.
The dinner which took place at 9 Brigade Hippo Stand, was spiced with cultural display and presentation of Award of Excellence to the outgoing Brigadier General by National Association of Online Security News Practitioners (NAOSNP). During the presentation of the award, NAOSNP President, Samson Oki said the recepient was recognised as " Brigade Commander of the year 2022" following his outstanding performance in the year.
Projects
The dinner was an avenue to mention some notable projects embarked uoon by Akpaumontia including an artistic Hippo Fountain in the barracks.
Others are a block of six classrooms at the staff school, upgrading of offices and solar street lighting among others.
The Friday ceremony was never a dull moment as this could best be described as a day of salutes and parades as the Battalion filed out in their numbers while the military Band did the needful.
In what could be described as a swap of office, Brigadier General NJ Edet took over the Barton from his suceesor, Brigadier General Akpaumontia in a grand style.
Until he assumed this swap, Edet was the pioneer Commander, 12 Brigade, Lokoja, Kogi State.
Going down memory lane, Edet said he was a young officer in the 9 Brigade as dated back to 1994.
In his inaugural address, he said: "I am delighted to be here today, my presence here is significant in the sense that when I left the academy in 1994, I was posted to this cantonment, and this is where I was nurtured, in the 19th Batallion then, so, coming back here is a nostalgia.
'It also reminds me of when I was a young officer been nurtured by some mentors.
' 'I have watched you a couple of times especially during a tour of this place and the programme of yesterday, I look forward to working with you to ensure that the mission of the Army is achieved, especially the vision of the Chief of Army Staff that brought us here. I thank him for finding me worthy to become a commander of the 9th Brigade where I started as Second Lieutenant.
There is no substitute to hardwork and prayers. I want to implore you all to remain good officers and don't hesitate when called upon to contribute to the wellbeing of the country. Be professional in your conduct and don't do anything that will bring disrepute to the name of the Nigerian Army. I wish you well. We will interact more in a couple of days'' said the Brigadier General.
In the swapping of office, he said:' 'I will leave for Lokoja to hand over 12 Brigade to him (Brigadier General IE Akpaumontia), I happen to be the pioneer Commander of Nigerian Army 12 Brigade. It will go down in history that I am handing over to him.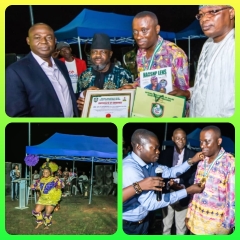 ' 'I urge you all to remain good officers, put in your best and don't hesitate when called upon to do that which will contribute to the wellbeing of this country.
' 'Be professional in your conducts and don't do anything that will bring disrepute to the name of the Nigerian Army.
' In all, hardwork pays, I will like you to put in your best so that recognition can come. Don't allow yourself to be swept under the carpet.
' 'No matter how the devil wants to surpress you, your light will always shine, give out your best and your best will always work for you.' ' He added.
In his parting speech, Brigadier General IE Akpaumontia enjoined the battalion,' 'Like I always say, avoid all unnecessary troubles. There will always be some problems in town, but avoid them as much as possible and do what you are supposed to do at all times.
' 'You should not have any need to beg anybody if you do the right thing.
' 'Those who do wrong will always have reasons to beg, we have been liaising with Army Headquarters so that electricity supply can improve.
' 'When this is done, I advice that you adhere to the, instructions guiding it.
' 'A new commander has taken over, very ,soon, he will address you.
' 'Remember, discipline is our bedrock, if you breach discipline, then, it is no longer the military, you must always obey instructions and work according to the laid down rules and laws of our beloved military.
' 'For those of you in the infantry, we hope to meet again, even those that are not in the infantry, just keep doing your very best.' '
Earlier, Akpaumontia led his successor on a tour of the cantonment.
There was also decoration of the new successor.