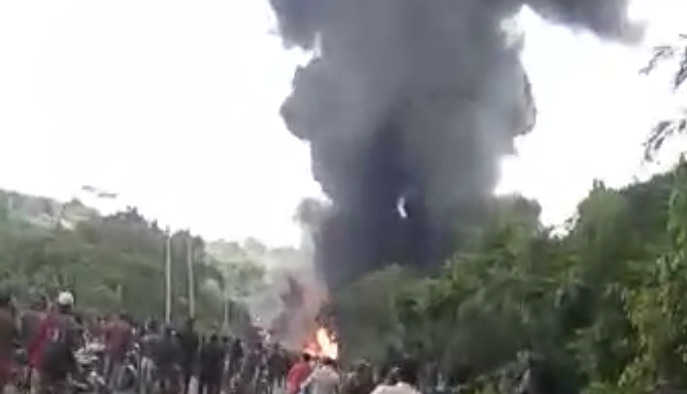 NINE people were reportedly roasted to death while two others were  injured on Wednesday,  along Owode-Idiroko Road, Ogun State, in a ghastly multiple accident  involving a Ford bus loaded with eggs, truck laden with petroleum product and four motorcycles.
The incident occured at about 8.05am at Odo-Seje, Ajilete, along Owode-Idiroko Road.
According to eyewitnesses'  account, the fully loaded petroleum tanker was traveling from Owode inbound Ajilete when the unfortunate incident happened.
As it was descending towards Odo-Seje slope, the tanker suddenly detached from the body, due to improper coupling .
As a result of the detachment, the tanker reportedly fell on it's side at the tail end of the slope where motorcyclists usually converge to pick passengers.
Also,  the  incoming bus from Ajilete to Owode, conveying eggs reportedly rammed into the tanker and this recorded an explosion.
The victim's were all males comprise the. commercial motorcyclists,, and the bus driver.
Nine of then were said to be roasted to death while scampering for safety.
Both the truck driver and motor boy were said to have sustained minor injuries but fled the scene out of fear
An eye witness, Mr. Bode Adeniyi said "some of them ran into the adjoining bush where the fire spread to,"
Road users in the axis were said to be stranded for hours due to the impact of the incident
It was a hectic day for men of Ogun State Traffic Compliance and Enforcement Corps (TRACE), fire services, the Nigeria Police Force and other agencies who battled the inferno and prevented it from escalating.
The incident was confirmed by TRACE Public Relations Officer, Babatunde Akinbiyi who said TRACE team from Oke-Odan Division has successfully removed the accidented vehicles from the road for normalcy to return to the axis.
He said, "Nine people were lost to the incident while two others were injured.
He said Owode Divisional Police Station have commenced investigations into the incident.
While commiserating with the affected victims, he urged truck drivers to carry ensure maintenance of their vehicles and give consideration to other road users.