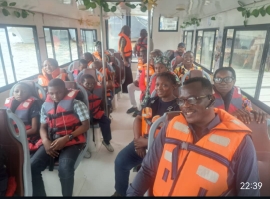 Education
NIWA Area Manager fetes Ocean Ambassadors,  calls  for maritime studies in schools
CITIZENS COMPASS – Engineer ( Dr) Sarat lara Braimah,  Lagos Area Manager of National Inland Waterways Authority (NIWA) on Friday, August 11, 2023, played host to a selection of primary and secondary school students,  nurtured  by Ocean Ambassadors foundation as future leaders in the Nigerian Maritime sector. 
The students listened with rapt attention as the Area Manager,  a top-notch female Maritime Engineer,  explained to them the importance of choosing a career in the emerging Nigerian Maritime industry. 
Impressed with the greater number of female students in the group,  the Engineer stated that time has come for serious intervention in engendering sustainable maritime education curriculum in schools, particularly as a process of closing the  professional maritime management gaps, targeting girl child  education in the hugely male dominated marine resources environment. 
" My dear children,  I will encourage you all beyond just participating in Maritime debates and quiz programmes to take to Maritime studies either as an engineer,  lawyer,  environmentalist, ship captain,  hydrographer and many other career options in the industry as  the future looks brighter towards bigger international trade ecosystem through the ocean  and Maritime domains" she explained. 
During the guided boat cruise with the children through the CMS  marina and Apapa waterfronts,  she told the excited "Maritime academicals" and "green horns"that  life on water is exciting and worth studying,  adding that she would as opportunities permits, continue to support and monitor their academic progress. 
Founder, Ocean Ambassadors Foundation,   Mrs Violet Williams appreciated the area manager for her support and encouragement to the foundation,  particularly to the young lads, stating that she was surprised at the red carpet reception accorded the children and the boat cruise  experience which will remain memorable for the kids in their lifetime. 
" We want to thank you on behalf of the students  and teachers for this grand reception and outing.  Our Ocean Ambassadors Foundation  is determined to capture them young for a professional career in the Maritime industry and we look forward to more collaboration in the future education and exposure of these young lads and in particular the girl child education in Maritime studies" Mrs Williams further stated in appreciation.