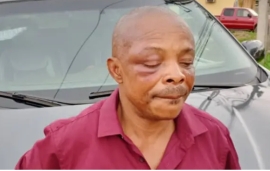 Politics
NLC President, Ajaero in critical condition, may be flown abroad
CITIZENS COMPASS —The Nigeria Labour Congress (NLC), on Thursday, November 2, 2023, said the health condition of its President, Joe Ajaero is very critical and may be flown abroad for a full medical examination. 
Ajaero he was seriously beaten, brutalized and battered by alleged agents of the state including policemen on Wednesday in Owerri, the Imo State capital.
Some suspected agents of the state and security operatives had descended on Aajaro alongside other Labour leaders smashing their vehicles, inflicting injuries and dispossessing handsets, money, ATM cards among other valuables from Labour leaders and others who had gathered at the NLC State secretariat to begin a scheduled protest over pending labour issues.
The NLC President, other national leaders of NLC and their Trade Union Congress of Nigeria, TUC, counterpart, were at the state Secretariat in Owerri to protest among other grievances backlog of unpaid salaries and allowances, Pensions, gratuities and non-compliance with National Minimum Wage Act.
After his release from Police abduction Wednesday night, Ajaero who looked very weak was wearing a neck collar with weak all over his skin and was "referred to ophthalmic investigation, a head/brain scan, a full body scan, and cervical spine therapy among other investigations.
Speaking on the health condition of the NLC President, an Assistant General Secretary and chief of Staff to the NLC president, Chris Onyeka, lamented that his situation had worsened and could hardly talk saying he almost passed out last night.
According to him: "The Congress President is in a very critical condition. He is so weak and can hardly talk. He almost passed out last night. The Congress is considering flying him abroad for full medical examination. There is high apprehension and fear that he might fear that he might have been injected with substance. Like you may have seen, he was brutally beaten, brutalized and battered in addition to confiscating his phones, monies and others personal belongings. We have suspended the action in Imo State because besides the President, other Labour leaders suffered similar fate. They need to take care of themselves and recover from the injuries inflicted on them by agents of the state government including operatives of the Imo State Police Command."
Meanwhile, Vanguard gathered that the leaders (organs) of NLC and TUC will meet next week Tuesday, to decide on appropriate response to the attack and brutalisation of the NLC President and other Labour leaders in Owerri.
Meantime, more reactions have continued to trail the attack and brutalization of Ajaero and other labour leaders in Owerri
Reactions
Reacting, the presidential candidate of the Labour Party, LP, in the February 2023 Presidential election, Mr Peter Obi, yesterday, condemned the attack on Joe Ajaero, describing it as lawlessness, impunity, criminality, and rascality.
Obi, who condemned the attack on Ajaerovia his X account (formerly Twitter), the incident "has come as a rude shock to most Nigerians. It says a lot about the state of affairs in our country today."
The LP candidate, said: "It shows the level of lawlessness, impunity, criminality, and rascality that have engulfed our dear country. Things like this should worry any discerning mind because it runs counter to the type of country that we all desire and deserve.
"In the New Nigeria of our dreams, abuse of power and the reckless violation of citizens' rights through acts of impunity will have no place."
Aviation Unions

Similarly, Aviation unions while condemning the brutalisation and abduction of Ajaero, placed aviation workers on notice, for a possible showdown capable of creating flights disruption nationwide."The unions which are the National Union of Air Transport Employees, NUATE, Air Transport Services Senior Staff Association of Nigeria, ATSSSAN, National Association of Aircraft Pilots and Engineers, NAAPE, and the Association of Nigerian Aviation Professionals, ANAP, described the action as one of the darkest spots on Nigeria's democratic credentials.

"In a joint statement, they said among others, "We state unequivocally that we stand ready to act as may be directed by NLC to black out Imo State from the aviation map, and take further actions against the person of Hope Uzodimma as we deem fit, until the needful is done. ""By this release, all aviation workers are hereby placed on red alert to stand ready for action against Hope Uzodimma as will soon be directed. Injury to one is injury to all."
Textile workers

Also, the National Union of Textile Garment and Tailoring Workers of Nigeria (NUTGTWN) , said the unwarranted and unprovoked attack, brutalisation, abduction and near murder of Ajaero in Imo State, is condemnable in the strongest term.
The Union in a statement by its President and General Secretary, John Adaji and Ali Baba, respectively, read in parts : " We are particularly disturbed that this uncivilised action by the Imo State Governor and the Nigeria Police Force is taking place in a democracy which the organised labour fought for, not military dictatorship."
"We call on Nigerian workers and masses, lovers of democracy, civil society organisations, men and women of good will and the international labour movement to rise up to condemn this brutality carried out by the Nigeria police force and the Imo State Governor against peaceful assembly of workers and their leadership.
ASUP

Similarly, the Academic Staff Union of Polytechnics, ASUP, has called on President Bola Tinubu to order the relevant agencies to fish out those behind the brutalisation of the President of the NLC and other Labour leaders for possible prosecution.
The union in a statement by its National Publicity Secretary, Abdullahi Yalwa, yesterday among others, said "It is therefore shocking to read reports of attacks and brutalization of unarmed workers and the leadership of the NLC to the extent of causing bodily harm to our protesting comrades who were only expressing their constitutionally guaranteed rights to freedom of association and expression.
"It is depressing to read reports of the active involvement of functionaries of the state government as well as reports of complicity of the Imo State command of the Nigeria Police in this show of shame."
NUJ
"On its part, the Nigeria Union of Journalists, NUJ, condemned the attack and brutalisation of Ajaero by sponsored thugs and the Nigeria Police, saying "We condemn this dangerous development in its entirety and call for proper investigation and punishment for the perpetrators."
NUJ National Secretary, Shu'aibu Leman, in a statement, yesterday, said: "We are appalled at the treatment meted out to the President of the NLC, Joe Ajero by sponsored thugs and the Nigeria Police.
"It is in appreciation of this perseverance, strength of character and invaluable contributions to the development of the Nation and democracy in the country by labour that we find the entire saga out of tune with reasonable conduct and in bad taste. The Imo State Government should be held responsible for any untoward thing that happened to Ajaero or any official of the NLC as a result of this development. "
LAWAN
Also, the Labour Writers Association of Nigeria, LAWAN, said the brutalisation and attempt by alleged sponsored agents to kill Ajaero in Imo State, is very shameful.
In a release by LAWAN through its Chairman and Secretary, Toba Agboola and Adenike Ajiboye respectively, LAWAN described it as a shameful act and barbarism that should not be accepted by the workers and Nigerians.
The statement read: "If such treatment can be meted to somebody like Comrade Joe Ajaero that has paid his dues and is on a legitimate NLC assignment, shows that an average Nigeria is not safe. It shows that there is no rule of law. It is a slap to Nigerian workers, a slap to our democracy and the citizens of Imo State. It is a big shame."
Angry reactions In Imo, angry reactions
Ajaero in critical condition from groups and notable individuals berated the brutalisation of the NLC President.
A former member of Imo State Executive Council, Nick Opara-Ndudu, in a statement, said: "Yesterday (Wednesday), our brother and compatriot, Comrade Joe Ajaero, was beaten up by security agents while discharging his duties as the President of NLC.
"Photographs making the rounds in the social media show that he was manhandled by the agents of the state and from his own account, the severity of the physical assault could have resulted in his death.
"Whatever Joe Ajaero did, it was well within the powers of the security agencies to arrest and prosecute him for any identified wrong doing. But to resort to the physical abuse of his person, is unconscionable and totally unacceptable.
"Mezie-Dozie Owerri, Ezuruezu Mbaise, Olu Okigwe, Orlu Zurumee and, indeed, all men of goodwill, must rise up in condemnation of this barbaric act, just as we await the reaction of the Imo Council of Elders.
For Okelo Madukaife: "Although I do not have the facts, no Nigerian should be treated this way, no less a President of organized Labour. If there is any reason to arrest, he needs not be brutalized.
"But please, let's not steer this in the direction of politics, as our views will certainly be divergent. The judiciary does not impose leaders,the people do by their action and inaction."
Similarly, a non-partisan, socio-cultural group, Olu Owerri, described the incident as "murder attempt".
The position of the apex Socio-cultural Organization of Owerri Zone, in a statement by the President-General, Chief Martin Opara, among others, called on all Owerri people, irrespective of their political leaning or affiliations to "stand up against the humiliation of a prominent Owerri son, who has grown to the level of President of NLC."
"Olu Owerri will not hesitate to call Owerri people out to defend themselves in the face of this threat to our lives in our own land. We call on all workers all over Nigeria, to rise up to the occasion because injury to one is injury to all".
Centre for Change

In the same vein, President, Centre for Change, Dr. Joe Okei – Odumakin , said "We are aghast at the assault on the NLC president. The narrative of protective custody is totally unacceptable. "The conduct of the Imo State Police command is inglorious. We call on the hierarchy of Nigeria Police to rein in the Imo Police Command and ensure justice for Comrade Ajaero who was treated to so much indignity.
"The thugs who carried out the hatchet job must be apprehended and made to face the law. Nigerians must be able to walk free in Nigeria and associate freely as stipulated by the constitution. We wait for the right action by the authorities. This cannot be the end."
Ajaero politicising Labour issues in Imo —Uzodimma

Meanwhile, Governor Hope Uzodimma of Imo State yesterday accused Ajaero of politicising labour activities in the state.
Governor Uzodimma who made the allegation while fielding questions from State House correspondents, debunked the allegation that he owed salaries for 40 months, insisting that his administration was up-to-date on salary payments, saying he had been paying salaries regularly, since he assumed office, January, 15, 2020.
He said: "I think it is a very good opportunity for me to clear the air on the so called allegations.
When I came into Imo State as the governor on January 15th 2020, from 2020 January till date, there's no month we have not paid salary before 30th. The situation is that before this time, I thought that the trade union is a democratic entity that allows the opinion of people.
"I don't pay federal civil servants, I only pay Imo State civil servants and I challenged any Imo State civil servants to come out and say that between 2020 January 15th till date, that he has not received salary in any of the month.
"What has happened in this ugly incident is that the national president of Nigeria Labour Congress is from Imo State and has not been able to demarcate the difference between being a national leader of an organisation and an interested party in local politics. But God will manage the situation."
On reneging on January 2021 agreement aside the backlog of salaries , Uzodimma said: "Well, I still repeat, there's no worker in Imo State…recall I came in January 2020 and by March, I started paying minimum wage of N30,000 that had been lying there, that previous leadership couldn't pay. By December 2020 I paid 13th month, the first time in the history of Imp State civil service and I have maintained this 13th month payment as an incentive.
"I automated the payment system. Salaries are now received in an automated manner in Imo State. I brought new innovations, I reformed the civil service. No wonder in the civil service the entire Labour Congress of Imo State chapter endorsed me and I am the only candidate they are supporting in the election. The Nigerian Union of Pensioners endorsed me, from 2007 to 2020, no civil servants in Imo State received gratuity. It is only my government that has now floated bond to pay outstanding gratuities to civil servants.
"Of course, I am the chief security officer and I have the responsibility to intervene. I encouraged the national leadership not to devolve the management team that their tenure has not expired and that was what they did.
"I don't interfere in Labour matters but I have convinced my workers in Imo State to believe in me and it is that trust that the opposition parties are trying to fight. But I can assure you that Imo people already have taken their decision. 11th November is by the corner."
Police didn't fail to protect Ajaero—Imo Police

Speaking on failure of the Imo State Police Command to protect, the NLC President, the State Police Public Relations Officer, PPRO, Henry Okoye said "I disagree with you sir that the police failed. The issue here is that the NLC did not inform us. If they had informed us that they were planning to hold a rally yesterday, we would have notified them that there is court induction against organizing a rally in this state most especially as we are approaching the season of election. They are not supposed to hold any rally until the court gives them go-ahead to go or continue with their rally. So, if they had informed us, the whole issue would have been averted. What I'm saying in essence is that yes, it is our responsibility to protect protesters. But, they need to inform us, so we can provide adequate security measure to avoid the protest being hijacked by hoodlums. The NLC did not inform the command.
On alleged police involvement in brutalization of Ajaero, he said "l want to let you know that we rescued him and took him to the hospital for medical check-up. Let him (Ajaero) comes up with evidence and we will prosecute those involved. It is illogical to say he was battered by the police that protected him from being killed."
Speaking whether anybody has been arrested, he said "Efforts are in top gear, and this is a mob attack. You don't expect them to stick to where they are when the police were coming. When they sighted our vehicles all of them ran away and we are making effort to ensure that we arrest everyone involved. It is going to be illogical and unfair to say that the police assaulted the NLC president.
—Vanguard