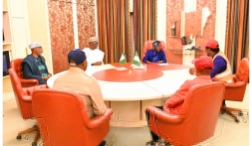 Politics
NLC to announce further steps on protests
CITIZENS COMPASS – FOLLOWING talks with President Bola Tinubu, the Nigeria Labour Congress (NLC) says it will make its decision on the suspension or continuation of its protest against the effects of fuel subsidy known on Thursday.
Mr Joe Ajaero, NLC President, made this known to newsmen after a meeting with President Bola Tinubu on Wednesday in Abuja.
Organised labour is protesting against the lack of palliatives to cushion the biting effects of the fuel subsidy removal.
He said that Tinubu did not force them to suspend the industrial action, adding that Tinubu is a "pro-democracy activist; so he understands protests".
Ajaero said that the president made some commitments during the meeting which they would take to workers' leaders.
He said the issues at the meeting were the same as those that led to the protest ab initio.
"He has expressed his position and made some commitments, which were taken side-by-side with what the Senate said.
"We're taking it back to the office with our colleagues to review it and release a document on our next line of action", the NLC leader said on the decision on further protests.
Ajaero said the issues of the palliatives as contained in the Presidential broadcast were broad, adding that some things needed to be done immediately to cushion the effect of subsidy removal.
He said that an immediate decision about the protest could not be taken by the labour leaders that came for the meeting now.
"No one person can call it off. That's why I say we'll have to go back to the office. So that we will look at it at the EXCO meeting.
"And by tomorrow, the NLC will equally have their NEC meeting, to look at the bigger picture", he said on the prospects of a decision on further protests.
-Vanguard