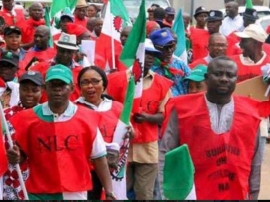 Politics
NLC, TUC begin nationwide strike 
CITIZENS COMPASS — As promised, the Nigeria Labour Congress (NLC) and its Trade Union Congress of Nigeria (TUC) have directed their members to begin an indefinite strike starting from midnight on Monday. 
Labour's decision to commence an indefinite strike came despite an injunction by the National Industrial Court, NIC, in Abuja, restraining NLC and TUC alongside their affiliates from embarking on any industrial action.
The strike is to protest the battering of the NLC President, Joe Ajaero, and others in Owerri, Imo State, on November 1, as well as the pending labour issues in the state.
They had, on November 7, resolved to declare a nationwide strike by Tuesday, November 14, if their demands were not met.
Besides the brutalisation of the NLC President, other labour leaders, journalists, other grievances of Organized Labour include outstanding salary arrears, unjust declaration of 11,000 workers as ghost employees, unsettled gratuities, non-compliance of N30,000 minimum wage act, and declaration of 10,000 pensioners as ghost retirees. 
Recall that suspected agents of the state and security operatives had descended on Ajaero alongside others.
They smashed the labour leaders' vehicles, inflicting injuries on them and dispossessing them of handsets, money, ATM cards among other valuables.
They had gathered at the NLC state secretariat to begin a scheduled protest on November 1, over the pending labour issues.
The NLC President, other national leaders of NLC and their TUC counterparts were in attendance.
The attack, brutalisation and the battering of Ajaero and others have continued to elicit outrage and condemnation across the country and beyond.
Organised Labour's decision to go ahead with the planned strike followed an extraordinary National Executive Council, NEC, meeting today in Abuja.
President of TUC, Festus Osifo, who spoke on behalf of the two labour centers said the strike would remain until  "governments at all levels wake up to their responsibilities".
According to him: "We demanded that the Area Commander that led the Police to carry out the  brutalisation should be relieved his duties and and prosecuted.
"We asked also that Governor Hope Uzodinma's  Special Adviser, SA, on Special Duties, Chinasa Nwaneri, who everyone knew led the touts, should also be arrested and prosecuted.
Our list of demands is in the public domain.
"We gave an ultimatum that initially expired Wednesday last week. But on the eve of that expiration, we had a joint session of the Nigeria Labour Congress and Trade Union Congress of Nigeria.
"We looked at the time we gave and felt as responsible pan Nigeria organisations, that we should give additional one week to see if the government would be responsive. 
"And to further draw the attention of government, we had the picketing session last week Thursday but instead of government to come out strongly to condemn this criminality, instead of government to speak and stand on the side of justice, some people in government were rather running their mouths and making all kinds of statements.
"So the two labour centres have resolved to stand firmly by the decision of the joint National Executive Council meeting that was held last week Tuesday, that effective from 12 midnight on the 14th of November, we shall declare a nationwide strike.
So effective midnight today, a nationwide strike is going to commence. 
"All affiliates of Trade Union Congress of Nigeria and Nigeria Labour Congress, all State Councils of the two labour centres have been mobilised adequately. And this is going to be indefinite until government at all levels wake up to their responsibility.
"This is the decision of the joint NEC of NLC and TUC and we are to carry it out to the later."
Court barred strike
Meanwhile, the National Industrial Court, NIC, sitting in Abuja, last Friday, restrained NLC and TUC from going ahead with their planned strike November 14, nationwide strike. 
The court made the order following an ex-parte application the Federal Government filed through the office of the Attorney-General of the Federation and Minister of Justice, Mr Lateef Fagbemi (SAN).
The ruling was delivered by its President, Justice Benedict Kanyip.
The court anchored its order on the provision of Sections 17 and 19 of its Act, saying it was within its powers to intervene in the dispute between the labour unions and FG.
—Vanguard