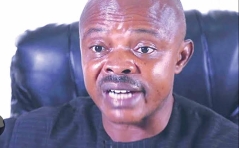 Politics
NLC vows to shut down Nigeria if… 
CITIZENS COMPASS – THE Nigeria Labour Congress (NLC) has served a notice of an indefinite strike should the pump price of petrol be increased from its current price of ₦617per litre.
Affirming that the current price is illegal given agreements between it and the government, the NLC vowed to shut down the country should ongoing permutations on a price hike come to reality.
NLC President, Joe Ajaero gave the strike notice on the sidelines of the meeting of the African Trade Union alliance held in Abuja.
Comrade Ajaero said that the government has in recent times taken deliberate efforts to undermine the union despite the goodwill of the organized labour.
Citizens Compass reports that the strike notice from the NLC is against the background of assertions that the current ₦617 per litre of fuel is not sustainable based on international prices and the slump of the Naira in the exchange market.
Besides the notice of indefinite strike by the NLC should the pump price be increased.