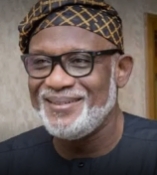 CITIZENS COMPASS — THE Ondo State Governor, Rotimi Akeredolu, has returned to Nigeria after about three months medical leave to Germany.
The elated Akeredolu's wife, Betty, disclosed this on one of her social media pages. 
A source close to the familysaid that the Governor returned to Nigeria on Wednesday. 
"He is in Ibadan (Oyo State capital) currently but will leave for Ondo anytime from now because he wants to get back to work as soon as possible. 
"I can't say much about his state of health but I understand that he is willing to return to work. I'm sure the Acting Governor will brief him by tomorrow (Friday) or Monday latest and hand over the affairs of the Ondo back to him," the source said.
On July 9, Akeredolu's wife, Betty announced the suspension of activities lined up to celebrate her 70th birthday.
The Ondo first lady announced the suspension of the activities in Twitter posts after questions were raised over plans to have a fanfare despite her husband's ill health.