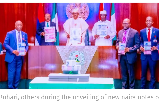 CITIZENS COMPASS– PRESIDENT of the Federal Republic of Nigeria, Muhammadu Buhari, on Wednesday, unveiled the re-designed N1,000, N500 and N200 Notes as proposed by the Central Bank of Nigeria (CBN).
The CBN Governor, Mr Godwin Emefiele had on Tuesday said that the president will unveil the newly designed Notes at the Federal Executive Council meeting.
The CBN governor seized the occasion to debunk insinuations that the unveiling was targeted at some Nigerians.
He appealed to members of the public, to desist from making such speculation, adding that that there is no need to perpetuate any such information.
According to him, the CBN will intensify the monitoring process and interrogate the process of withdrawals.