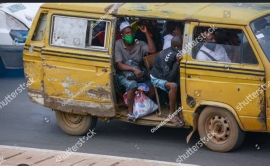 Articles
No reduction in fares, transporters ignore Sanwo-Olu's directive 
... passengers lament
CITIZENS COMPASS – COMMERCIAL transporters in Lagos State have ignored pleas by the State Governor,, Babajide Sanwo-Olu to reduce fares by 25% in order to cushion the effects of fuel subsidy removal on residents. 
The Governor had directed that non-state-owned bus drivers should reduce fares by 25 per cent and state-owned buses to reduce it by 50 per cent. 
However, a monitoring tour by a team from the Lagos State Ministry of Transportation on Thursday, August 10, 2023, revealed partial compliance across all routes across the State. 
During the tour, the Director of Transport Operations of the Lagos Ministry of Transportation, Mr Olasunkanmi Ojoowuro, spoke to Parks and Garages union officials. 
He conveyed the Governor's concern about fares, emphasizing that transportation is crucial to all sectors.
Mr Ojoowuro, who represented the Permanent Secretary of the Ministry, Engr. Gbolahan Abdulahfiz Toriola highlighted the impact of fuel price increases on drivers' income and how it affects various sectors, including the government. He stressed the need to maintain the right balance in the transport sector.
Ojoowuro also urged transporters to comply with traffic rules to uphold the State's reputation as the "Centre of Excellence."
While state-owned buses, including the Bus Rapid Transit (BRT), have indeed reduced transport fares by 50 per cent, operators have introduced a N50 tax payment in fares to offset the effect of the 50 per cent fare reduction.
At Iyana-Ipaja bus park, the Ministry of Transportation's team encountered a BRT bus complying with the 50 per cent directive but adding a N50 tax to fares. For example, the Iyana-Ipaja to Ikeja fare, previously N250, is now N175 (reduced from N125), with the N50 tax included.
At Pen Cinema garage in Agege, commercial bus drivers expressed dissatisfaction with the government's directive. They noted that the daily ticket was only reduced by 25 per cent (from N800 to N600) while other expenses remained unchanged or even increased.
This includes PMS (petrol) prices, spare parts, servicing, and various fees charged by the state, such as annual insurance fees and roadworthiness fees.
The drivers also mentioned that passengers were not willing to return to a four-person-per-row seating arrangement from the current three-person-per-row setup introduced during the Covid-19 pandemic.
They argued that reverting to four persons per row with a fare of N250 would be more viable than the current three-person-per-row setup at N300, even with a 25 per cent fare reduction.
During the tour, the Secretary of Lagos State Parks and Management, Branch 'B', Mr Oluwasegun John, expressed hope for increased compliance by commercial bus drivers.
He stated that a meeting had been held where they resolved to work on encouraging drivers to reduce their fares.
The Ministry of Transportation's monitoring tour was conducted by several officials, including the Director of Human Resource and Admin, Mr Akapo Lawal; Director of Public Transport and Commuters, Mr Olusoji Adebayo; and Spokesperson, Ministry of Transportation, Mrs Bolanle Ogunsola.
Some passengers who commented on the development said they pay through their nose to transport themselves from one place to another.
A check by Citizens Compass revealed that some salary earners now sleep in their offices to meet up with the fares while some others have reviewed the number of days at which they report for work.
In a chat with our correspondent, some workers said they may opt for online jobs.