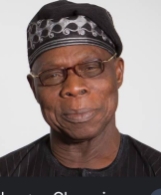 Politics
Obasanjo denies ex- wife who apologised on his behalf 
CITIZENS COMPASS —FORMER President of Nigeria, Olusegun Obasanjo popularly known as OBJ, has said that one Ms Taiwo Martins who apologised to the traditional council on his behalf is not his wife but a Bbaby Mama'.
OBJ said though he raised two children through the woman but he can categorically state that she is not a member of his family. 
Last Friday, Ms Martins had on behalf of OBJ apologised for giving an order to some Yoruba monarchs to stand up for Governor Seyi Makinde of Oyo State during an event in the State. 
The former president through hos media aide, Kehinde Akinyemi, described Ms Martins as an impostor, a baby mama and not his wife.
Ms Taiwo Martins had apologized on behalf of the Obasanjo family for what was seen as his desecration of tradition in ordering the traditional rulers to stand.
The statement further reiterated the aptness of the president's directive to the traditional rulers to stand for the governor insisting that he deserved to be respected on account of the fact that he is the highest office holder in the state.
The statement reads:
Acclaimed Mrs Obasanjo is an impostor – Obj Media Aide
"The attention of former President, Chief Olusegun Obasanjo has been drawn to a statement purported to be issued by a wife of the President with the photograph of one Ms. Taiwo Martins as the author of the statement. 
" For the records, Ms. Martins has two children, Jonwo and Bunmi, for Chief Obasanjo but to say emphatically that she is not his wife nor a member of the Obasanjo family.
" Her posturing as Chief Obasanjo's wife is false and that of an impostor. Nobody makes statement on behalf of the Obasanjo family except Chief Obasanjo or people delegated by him to do so.
" It must be noted that the state of health of Ms. Martins is known to all and sundry  and whatever she says or does has nothing to do with Chief Obasanjo as an individual or the Obasanjo family as a whole.
" However, the former President has affirmed that he stood firmly, unapologetically and uncompromisingly on the position that the Governor of a State holds the highest office in the State.
" By that position, the respect, protocol and dignity that must be given to the office by virtue of the Constitution must not be denied. To do otherwise is to deride the office and the Constitution."