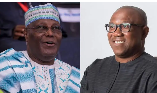 Politics
Obi, Atiku can inspect election materials- Court 
CITIZENS COMPASS- THE steps taking by Atiku Abubakar of the Peoples Democratic Party and  Mr Peter Obi of the Labour Party, to reclaim their mandates seems to be yielding results as the Court of Appeal  on Friday, granted them a leave to inspect documents used by the Independent National Electoral Commission (INEC) for the conduct of the Feb. 25 Presidential election.
The permission was sequel to two separate Exparte Applications filed by Abubakar and Obi, who came second and third respectively in the presidential election won by Sen. Bola Tinubu of the All Progressives Congress (APC).
They are alleging substantial non-compliance with the Electoral Act 2022 in addition to violence and rigging which they claimed marred the conduct and outcome of the election.
They had at separate media briefing on Thursday in Abuja, vowed to ventilate their grievances at the soon to be constituted Presidential Election Petition Tribunal had approached the Abuja division of the Court of Appeal, for permission to inspect the materials used by INEC in the conduct of the election.
Other respondents in the suit are the PDP and LP, INEC , Tinubu and APC are the 1st to 3rd respondents respectively.
Abubakar's lawyer, Adedamola Faloku, in arguing the motion prayed the court to grant the Exparte application brought before it pursuant to Section 146 (1) of the Electoral Act 2022, Paragraph 47 (1, 2 &3) of the first Schedule of the Electoral Act of 2022 and under the inherent jurisdiction of the Court as referenced by Section 6 (6) A & B of the 1999 Constitution.
The application which was predicated on six grounds, sought for seven reliefs, adding that a schedule of the documents to interrogate the respondent (INEC) was also contained in the application supported by a 12 paragraph affidavit.
Counsel to the applicant adopted all the averments contained in the affidavit and urged the Court to grant the application.
In the other application, Obi's lawyer, Mr Alex Ejeseme, SAN, also prayed the appellate court to grant the reliefs sought in the motion exparte in the interest of justice.