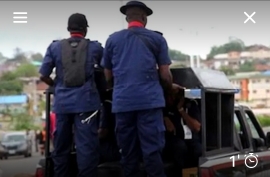 Security
Odumosu tasks NSCDC personnel on protection of critical infrastructure in FCT
CITIZENS COMPASS – THE Nigeria Security and Civil Defence Corps (NSCDC) FCT Commandant, Olusola Odumosu, has charged officers and men of the FCT clCommand to work assiduously in ensuring the protection of all critical infrastructure in the territory.
The new Head of the Command addressed all personnel, including Area Commanders and District Officers (DOs) across the Area councils in the Federal Capital Territory (FCT). 
Odumosu said that his tenure of leadership under the NSCDC Commandant-General (CG), Dr Abubakar Ahmed Audi, mni, OFR, is dedicated to ensuring results while actively carrying out the mandates of the Corps.
He said that the FCT Minister, Mr Nyesom Wike, had tasked the Corps alongside sister agencies in the territory to provide proper security and cleanse the city of crimes.
The Commandant frowned at the high rate of vandalism of street lights, theft of manhole covers, railings, railway sleepers amongst others, in the FCT.
"It is high time we work together to put an end to these nefarious acts because these criminals are beginning to feel too comfortable in sabotaging the asset of the country," he said.
He further said that the Minister had charged the Corps to treat those involved in vandalizing manholes as "Armed robbers".
Quoting Wike, "The people who steal manhole covers, don't see them as just people who steal but treat them as armed robbers, when you do that they will run away".
He enjoined officers and men of the Corps to work tirelessly in ensuring that citizens and all critical infrastructure of the FCT were free of vandalism and other nefarious activities.
"The Minister has promised to provide us with the necessary tools to work and we must give him good results because as your Commandant,  I wouldn't tolerate any excuses for failure," he said.
According to Odumosu, the newly inaugurated FCT Minister, who is renowned for hard work, has said he is on a mission to revamp all infrastructural amenities in the FCT, hence, the need for the Corps to live up to expectations in ensuring adequate protection of these assets.
"As a security organization in-charge of the protection of critical infrastructure, the expectations of the Minister will be high and so we must not disappoint.
"Strategies, structures and infrastructural development will be put in place and so we can't sit-back and watch all efforts go down the drain," the Commandant said. 
He urged officers on the need for civility, professionalism, discipline, hard work, dedication and commitment while discharging their duties.
Commandant Odumosu further advised all personnel to renew their mindset, be motivated, maintain a positive attitude, adding that, the issues of security will no longer be business as usual in the FCT as the current administration is dedicated to enforcing reforms.