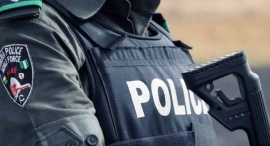 Crime
Ogun Police vow to fish out killers of physically challenged man  
CITIZENS COMPASS – THE Ogun State Police Command is currently investigating the death of a 62 years old physically challenged man, Adetunji Ayaji, who was matcheted to death by some yet-to-be identified persons in the state.
According to a statement signed by spokesperson of the Command, SP Omolola Odutola, the assailants gained entrance into the home of  the deceased and murdered him. 
The Command gave details of the tragedy thus, "The Ogun State Police Command headquarters on the 4th of July 2023 received a report of machete to death of one Adetunji Ayaji M aged 62 years where unknown assailants gained entrance into the home of  the deceased and murdered him.
" The unfortunate incident happened Yesterday at about 1500hrs after the family members of the deceased'family went about their various daily business, leaving the physically challenged husband and father at home. 
" His family members at the close of work , on arrival met Late Adetunji Ayaji, m, lifeless in the pool of his own blood. 
"The Divisional Crime Officer, of Imasayi, the Police Jurisdiction covering the area where the dastardly act occurred on his investigation confirmed the report. 
" The DCO observed the buzz line of the deceased was taken away. His remains have been evacuated to General Hospital Ilaro where Mr. Adetunji Ajayi was certified dead, his corpse was deposited at Ilaro General Hospital for further examinations. 
" The Ogun State Police Command, has no firm lead about the reason behind these extreme viciousness." However, the Commissioner of Police has been briefed and he has assured the families that the killers, and cruel minded criminals will regret their actions as justice will be done and the killers will definitely not go scout free but justice must be done in respect of exposing the unfortunate perpetrators of this height of violence, condemning the senseless killing.
"The Ogun State Police Command Headquarters sympathizes with members of the families for their misfortune and painful loss, and further assures that investigations are at double quick time to unravel the crime please."