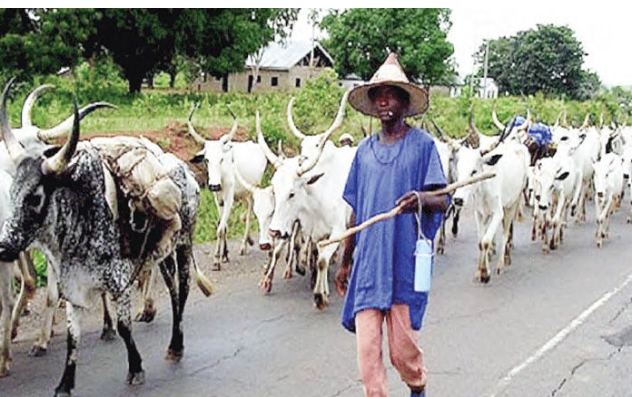 RESIDENTS of Isara-Ago Iwoye, Ogun State have resolved to self help by mounting checkpoints and roadblocks in parts of their communities over activities of herdsmen, banditry and kidnapping in their area.
At the Oke-Ogbe Junction of the Isara-Ago Iwoye Road, hunters in the community mounted a roadblock where they do 'stop-and-search' on all vehicles
They were armed with Dane guns, searching incoming vehicle including lorries, to ensure none was with arms or any dangerous weapons.
Speaking with newsmen, the leader of the local vigilantes, Jaiyeola Jegede, threatened to withdraw the services for lack of support.
Jegede said they took up the responsibility after series of kidnappings and robberies by suspected herdsmen, saying they have the nod of the Police and the traditional leader of the community to mount the roadblock.
"We are doing this for the purpose of security. We want to secure our community. We have the backing of the DPO and the Oba to do this.
"Fulanis are kidnapping people everywhere. They rob on this road. Sometimes by 7 pm, they will be kidnapping and robbing people on this particular road. Many people have been robbed and kidnapped. The same thing happened on Ibadan/Ago Iwoye road, because that road links Mamu. They kidnap people. There are hunters in that area too.
"Last week, people were robbed on this same road. They even took away some. But, before we got there, they had fled into the bush. We combed everywhere till almost dawn, but we didn't see the herdsmen," Jegede explained."
On the challenges facing the team, Jegede regretted that members are already contemplating quitting the community service job.
"We are already contemplating leaving this place, we want to quit this work we are doing. Since we have been here, nobody makes any provision for us. We are the ones feeding ourselves. We need motorbikes or vehicles for patrol, from here to Ago Iwoye and Isara Remo, but we didn't see anything. Nobody is giving us anything; people are only promising without fulfilling it.
"Our plea is that people should support us. But if they don't, we will withdraw from here anytime soon,"
he said.
Jegede expressed worry that "countless people have been kidnapped here by the Fulanis."
He recalled that "recently we arrested some people here with guns inside their vehicle. They hid the guns under bunches of bananas and bags of garri. We also caught thieves carting away bags of cement and other stolen items.
"Once we apprehend them, we hand them over to the police. We don't know what the police do with them," Jegede said
Source: Daily Post.