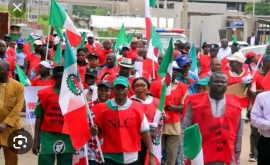 CITIZENS COMPASS – THE National Industrial Court on Monday, granted an interim order restraining the Nigerian Labour Congress and Trade Union Congress from embarking on strike on Wednesday.
Justice O. Y. Anuwe issued the order and adjourned further hearing till 19 June.
Meanwhile, the Federal Government has resumed meeting with representatives of organised Labour unions including the Nigeria Labour Congress and Trade Union Congress at the Presidential Villa over the current removal of subsidy on petrol.
The meeting which ended in deadlock on Sunday has continued on the note of a possible conclusion today.
In a 1minute, 58 seconds video shared by one Dada Olusegun on Twitter, the representatives of the unions were seen taking their seats and awaiting the Federal Government representatives inkling the Chief of Staff, Femi Gbajabiamila, Adams Oshiomhole, among others.