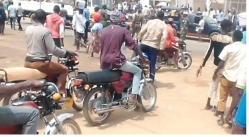 Community
Okada riders protest alleged police extortion in Ikorodu
CITIZENS COMPASS – COMMERCIAL motorcyclists, popularly known as Okada riders, on Thursday morning, protested what they described as illegal arrests, extortion and harassment of their members by policemen in Ikorodu Division in Lagos State. 
Scores of commuters and motorists were stranded for hours as the protesters,  blocked Beach Road in Ikorodu Central in protest. 
According to the protesters, Ikorodu Local Government Area was not a restricted route as highlighted by the state government when a ban on Okada activities was announced. 
They said continuous arrests and extortion by the police are illegal.
One of the protesters, Kazeem Gbadegesin, said, "The policemen are troubling us. Since we cannot resort to crime because there is no job, we chose okada as our job to make ends meet.
"And apart from the fact that Ikorodu is not among the places where okada has been banned in Lagos, we are not working on the expressway. Why are the policemen after us?"
Another protester, Mudashiru Ayinde, said, "What happened this morning was beyond what I've ever seen. At Oluodo Bus Stop, policemen came  and started seizing our bikes forcefully. One of them hit one of our colleagues with a gun. There is another of our colleagues who was hit in the face and one of his eyes is injured. 
Ayinde said they wanted the monarch to intervene as he had done in the past.
At oress time, spokesperson, Lagos State Police Command, Benjamin Hundeyin could not be reached. 
The protest came barely a year after the arrest of 50 suspects following an attack on policemen in Ikorodu Central. 
The attack occurred in June 2922 while some riders in the course of attempting to evade arrest by the police, mobilised hoodlums and attacked a Police team that had come to impound commercial motorcycles in some parts of Ikorodu.
With the police almost overwhelmed, a call for reinforcement by the Lagos State Police Command quickly got the situation under control, and 50 persons were arrested with 14 Okadas impounded.
Vice Chairman of the Lagos State Motorcycle Association, Kayode Jimoh Pashoku, popularly known as'Jendor could not be reached for comments.