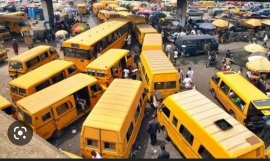 Community
Lagos takes further steps on court  judgment banning RTEAN caretaker committee
CITIZENS COMPASS – THE Lagos State Government has filed a notice of motion to appeal the judgment of the National Industrial Court of April 18 which nullified the appointment of a caretaker committee it put in place to run the affairs of the Road Transport Employers Association of Nigeria (RTEAN) in the state.
The notice of leave to appeal dated April 28 was brought pursuant to Order 6, Rules 1, 2 & 7 of the Court of Appeal Rules 2021, Section 243(3) of the 1999 Constitution (as amended) as well as the inherent powers of the court.
The Attorney General of Lagos and the Special Adviser to the Governor on Transportation, Mr. Sola Giwa were listed alongside the governor as appellants to the suit, while the RTEAN, all the members of the ad-hoc committee and the Commissioner of Police in Lagos State were listed as the 1st to 35th respondents.
The appellants in the notice say they are dissatisfied with the judgement of the National Industrial Court and are seeking an order of the court granting them leave to appeal against the said judgement.
They listed out seven Grounds in the Proposed Notice of Appeal.
In Ground one, the appellants say that the learned trial judge erred in law when it dismissed their preliminary objections dated Jan. 10, 2023 challenging the competence of the RTEAN's originating summons and the jurisdiction of the trial court to hear the action as constituted.
In particulars put before the court, the appellants say that contrary to the position held by the lower court, the processes before it raised serious and substantial contentious and hostile facts which could not be appropriately remedied.
In Ground two, the appellants also submitted that the trial court erred in law when it granted the claims of the RTEAN when same were not proved and established.
In Ground seven, the applicants held that the judgement of the court is against the weight of evidence.
In their reliefs, they are seeking an order allowing the appeal and setting aside the judgement of the National Industrial Court of Nigeria, Lagos Division delivered by Justice Maureen Esowe in the suit of the Road Transport Employers Association of Nigeria Vs The Executive Governor of Lagos State & 36 others delivered on April 18, 2023 or any other order the court may deem fit and proper to make in the circumstances of the appeal.
The court has yet to fix a date for the hearing of the suit.