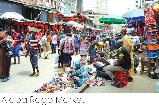 Articles
One "fatally injured" as Police, traders clashed in Lagos market
CITIZENS COMPASS- ONE person was fatally injured on Tuesday, at the popular Alaba Rago Market, Lagos/Badagry Expressway, when some policemen from Okokomaiko Division clashed with some traders in the market.
One of the traders was fatally injured in the process.
Problem started when some policemen from Okokomaiko Division went to the market in search of a suspect but some traders misunderstood the search and attacked the policemen heavily.
An eye witness who does not want her name in print said the policemen had to apply professionalism to guide against recording of casualties but when the attack was too much, the Police had no choice than to fire a shot to disperse the attackers but this went sour as one of the traders was fell.
The police were said to have fatally shot one of the traders in a tactical move to retreat from the mob of attackers.
At press time, the fate of the trader could not be ascertained.
Spokesperson, Lagos State Police Command, Benjamin Hundeyin confirmed the incident in one of his tweets.
According to him, "policemen of Okokomaiko Division today went into Alaba Rago Market to effect arrest of a suspect but came under heavy attack from a large number of traders.
In a bid to tactically retreat from the armed mob attack, one of the officers fired his weapon, resulting in fatal injury to one of the attackers.
"A detailed investigation has commenced into the immediate and remote causes of the incident," he said.
Reacting, a  twitter user, "Fitilla" said, "No body in his rightful senses will go to arrest anyone in a market, church or any place of worship and assume it will end well. The police of all people should know this."