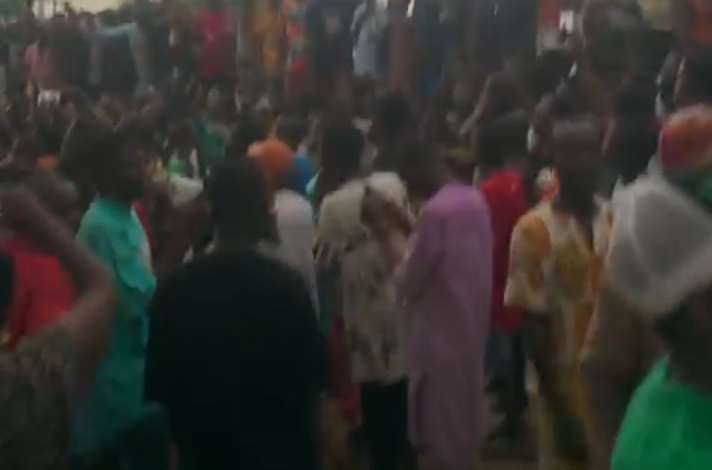 Community
OWO ATTACK: No arrest was made – Monarch
THE Olowo of Owo, Oba Ajibade Ogunoye has described as fake an online video claiming that some suspects who attacked St. Francis Catholic Church, Owo in Ondo State have been arrested by the palace of Owo.
The video which went viral on Thursday, claimed Hundreds of Owo residents had besieged the palace to confirm the news of the purported arrest of the suspects.
The monarch who addressed the crowd in Owo dialect said as a result of the trending video, some bloggers have circulated fake reports about the purported arrest thereby misleading many Nigerians.
The palace said residents who were in mourning mood following the attack on the church, had to besiege the palace to catch a glimpse of the suspects.
Oba Ogunoye urged residents to remain calm, saying he heard the same unconfirmed news just like the residents heard that the assailants had been arrested.
Similarlly, Spokesperson of Ondo Police Command, Mrs Funmilayo Odunlami in a telephone conversation said she could not confirm the arrest. She said, "Am not aware."
A source within the palace of Olowo however told our correspondent the information was a mere rumour as there was nothing of such.
The source who didn't want his name mentioned said: "it was a mere rumour.The youths besieged the palace in their thousands when the rumour broke out, but it was discovered to be a false alarm.
"Kabiyesi was only trying to hail their doggedness as he told them that, 'I heard the rumour like you too…and they should be patient to authenticate it.
"It was later discovered that, it was only some fulani/Hausa guys arrested along Owo/Benin boundary in possession of dangerous weapons."
– Tenet