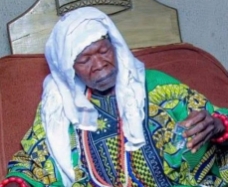 CITIZENS COMPASS – Iseyin in Oyo State has been thrown into mourning following the death of the Oro Priest, Aaba Odofin of Iseyin, Ashiru Oroleye who died after a brief illness.
He died on Thursday, May 11, 2023 at age 77.
The priest was said to have died at an undisclosed hospital in Iseyin.
It was learnt that the late Aseyin, Oba Abdul-Ganiyu Salawudeen, joined his ancestors on Sunday, July 24, 2022, at the age of 62 after a protracted illness and the process for the selection of a new monarch has been on since then.
The priest, who was installed as the Aaba Odofin Aseyin about seven years ago, according to the tradition of the town, must partake in the installation rites of any Aseyin.
A palace source, who does not want to be mentioned in print, told our correspondent that, "The tradition has it that the installation of any Aseyin must be done by the Aaba Odofin alongside other major priests like the Oluwo Aseyin of Iseyin.
"All possible efforts would be put in place to have another Aaba Odofin in place soonest, so as not to hamper the ongoing selection process. The efforts to replace the Aaba will not be delayed, those in charge will not tarry at all, because it is important so as not to hamper the ongoing selection process of picking a new Aseyin.
"People should not be afraid of the effects of the death of Pa Oroleye, he has come and performed his role excellently and we will miss him."
The death may bring set back to the process of selecting a new Aseyin of Iseyin in the town.