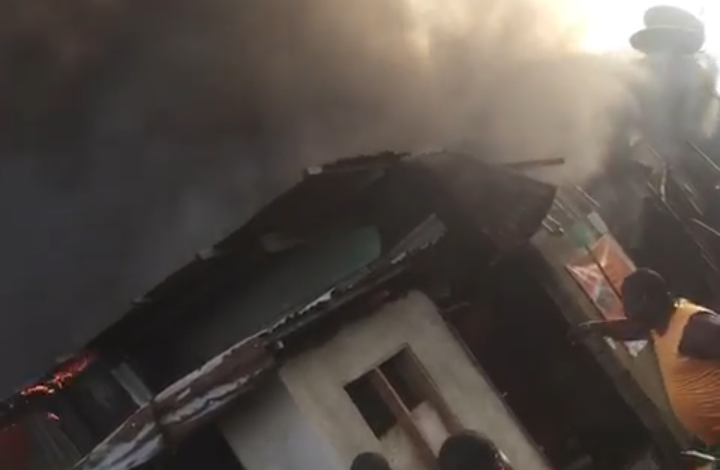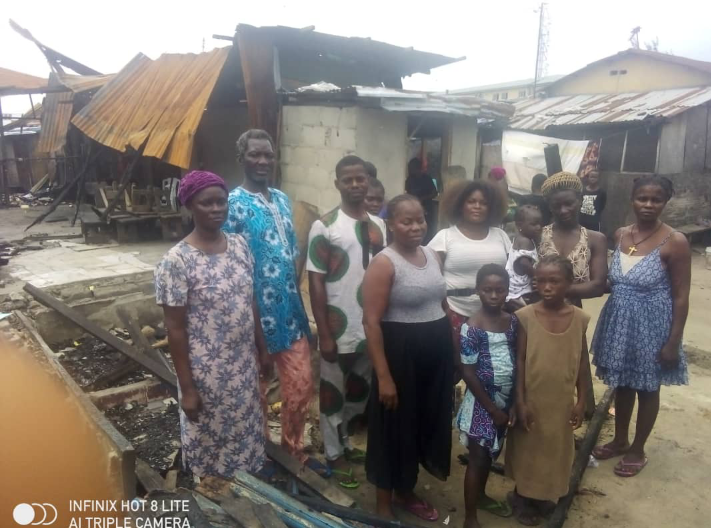 A NON governmental organisation, Love Brings Peace, has called on well meaning Nigerians, to donate materials and shelter to about 80 family members including a new born who were recently displaced in Ajah/ Ilaje, Etiosa Local Council Development Area of Lagos State.
The Founder of the organisation Mr. Daprince Johnbull said the families mostly Ghanaians were displaced following a fire outbreak which affected their structures.
Before the Thursday, July 1 inferno, the victims were occupying the area for decades before about 75 wooden structures were razed.
In a chat with the parents of the baby,
Mr and Mrs Alex Aquah, they said she was delivered on Monday, June 28, 2021 unfortunately they, alongside others lost all their belongings to the inferno four days later.
The cause of the inferno which occured at about 7.30am, could not be ascertained but the victims claimed that it erupted from one of the structures and consumed cash, house use items, pumping machines and others .
At press time, the victims including the baby were putting up under a make shift near the slum.
The Acquahs, said they have three other children but the economic situation in the country, compelled them to return the children to Ghana.
The 42 years old father who is a bricklayer said apart from house use items, his work tools were destroyed by the inferno. He said, "My wife gave birth to a baby girl on Monday while the inferno occured on Thursday. I have spent 12 years in this place and we are contented with what we have before the inferno destroyed all we have laboured for," he said.
About two weeks after the incident, some of the victims were counting their losses saying they have no place to go.
Some of them who are petty traders said they have lost their means of livelihood due to the aftermath of the inferno.
One of them, Mr. Napoleon Yamoah said he settled down in the slum to avoid high cost of living in some parts of Lagos saying, "I started living here since 1996 after letting one of the structures at N100 per month but the same structure now goes for N2,000 per month,"
Asked why he chose to live in the slum, he said, "we are monthly tenants and the rent is affordable compared with most parts of Lagos where one may be asked to pay a minimum of a year rent apart from agreement and commission," said the victim.
Yamoah, who was a water vendour before the fire outbreak said the inferno destroyed his means of livelihood. He said,
" I generate income through sale of water but all my equipment has been destroyed by the inferno, "
Also, 32 years old petty trader, Mary Tandoh, said the inferno destroyed cash, deep freezers, refrigerator and other items used in running her business.
Same applies to Ama Tetteh, Josephine Hanson, Alex Ackuah and many others who were also displaced.