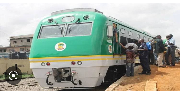 Community
Passengers stranded as train derails inside forest
CITIZENS COMPASS– MANY passengers were reportedly stranded on Sunday, when a train plying the Warri-Itakpe route in Edo State, believed to have derailed while on motion.
This occurred barely two weeks after some passengers were abducted from a train station in Igueben, Edo State.
According to eye witnesses' account, the incident occurred inside Kogi forest, with many of the passengers said to have fled the scene for fear of the unknown.
It was gathered that the train which left Warri early on Sunday morning got derailed at about 12:noon inside the thick forest between Ajaokuta and Itakpe.
Former Chairman of the Bayelsa Vigilante Agency, Prince Douye Koroye, who was in VIP alleged that it might be a case of suspected terrorists cutting the rail line, a situation that may have culminated in the train derailng because it was at a high speed.
The source, who was also former Special Adviser to the Bayelsa State Government on Youth and Community Development, revealed that four coaches and the head coach of the train were badly damaged beyond repair.
He said the stranded passengers were told by the officials of the Nigeria Railway Corporation to remain calm and sit back in the train while they mobilised for help.
Koroye also the stranded passengers were protected.