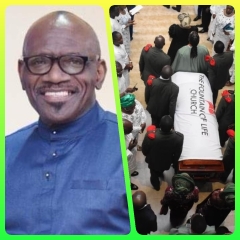 CITIZENS COMPASS —THE body of the Senior Pastor of Fountain of Life Church, Ilupeju, Lagos, Daniel Taiwo Odukoya, was laid to rest on Saturday, September 9, 2023, in Lagos State. 
The funeral ceremony wss held in his Church at the Industrial Avenue area of Ilupeju before the burial was privately held with family members and friends. 
Recall that the pastor died in the United States of America (USA) after a brief illness. 
Ministering during the burial service, Bishop David Abioye, the First Vice President of the Living Faith Church Worldwide, said late Pastor Taiwo Odukoya is right now with Jesus. 
The Bishop said: "Pastor Taiwo is now with Jesus, not because he is a pastor but because he gave his life to Jesus.
"I want to be where Pastor Taiwo is right now.  I love his smile and I want to see him again."
Bishop Abioye also described the event as a celebration of life.
He noted that Pastor Odukoya's church will be forever because Jesus who is the founder of the church is still alive.
Bishop Abioye added that the day of death is better than the day of one's birth.
He said: "Just like in academic service, the day of graduation is better than the day of matriculation. Pastor Taiwo Odukoya matriculated into life but graduated into glory."
Bishop Abioye went further to read 2 Timothy 4:6-7 which says: "As for me, my life has already been poured out as an offering to God. The time of my death is near. I have fought the good fight, I have finished the race, and I have remained faithful."
After reading the passage, the Bishop said: "I can picture Pastor Taiwo Odukoya smiling, nodding his head in affirmation as I speak."
He went further to read Hebrew 9:27 which says: "And just as it is appointed for man to die once, and after that comes judgment."
After reading the passage, Bishop Abioye reverberated that death was only a matter of "when" for everyone. He noted that this made the kind of lifestyle we live very important because all men shall die.
"We have to be sensitive to how we spend our life because all men shall die. The big question to all of us is, how are you living?"
The burial service was attended by Dolapo Osinbajo, Bishop Mike Okonkwo, Pastor Matthew Ashimolowo, Banky W and many other well known Nigerians.
One of the tough moments on Saturday was when Pastor Odukoya's daughter, Tolu, came up to sing a song dedicated to her father.
She fought back tears and gave a wonderful rendition of the song. The performance was well received as many stood on their feet to encourage and support her.
Back story
Odukoya died on Tuesday, August 7, 2023, in the United States of America, at the age of 67.
He is survived by five children, and six grand-children.