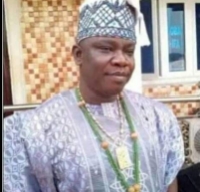 Community
Pastor takes drastic steps after herbalist died during sex with wife
CITIZENS COMPASS – A Customary Court in Ekiti State has dissolved a 22-year old union between Pastor Joshua Ajagunigbala and wife, Rita following the death of a herbalist during sex with Rita. 
Recall that the herbalist simply identified as Ifidayomi had died during a sex romp in a hotel while lodging with Rita. 
The marriage was recently dissolved after the pastor filed a divorce suit with Rita on the grounds of adultery.
The petitioner, Pastor Ajagunigbala, during the hearing prayed the Court to dissolve the union on the ground of adultery and the custody of his children be given to him.
In evidence, he told the Court that he had not paid the dowry of the respondent and they had lived together for over 22 years and had children.
He also informed the Court that it was the third time he had taken her to Court on the ground of adultery, stating that the respondent in 2017 started having an illicit affair with a herbalist called Ifidayomi popularlly known as Ejiogbe, who is now late.
He narrated that the Herbalist died on top of the respondent while having sexual intercourse in a hotel at Ikere-Ekiti on 2nd January, 2023, which led to a commotion involving susoected thugs destroying his house and church at Ikere.
He lamented that her action led to his suspension by his Church authority and because of this, he is no longer interested in the union and pleaded with the Court to dissolve the union and give him custody of his children.
Mrs. Ajagunigbala, in response, admitted having sexual relationship with the late herbalist saying the relationship was because of lack of care from the petitioner. She said that she had been the one responsible for the feeding of the children and their school fees. 
Rita claimed that she had incurred so much debt, which the late Ejiogbe helped her to offset.
During the hearing, the Court noted that their marriage was illegal because payment of dowry was not involved in the union as such there was no marriage to dissolve.