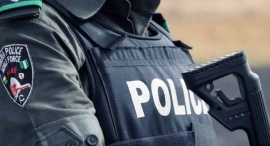 Crime
Police arrest photographer with human parts 
CITIZENS COMPASS -Ondo State Police Command has arrested a self-acclaimed photographer, Franklin Akinyosuyi, with human parts in the State. 
The 26-year-old suspect was reportedly arrested in Ondo town, headquarters of Ondo West local government area of the state.
It was learnt that a human head was discovered in a sack hidden inside the room of the suspect in a rented apartment in the area.
It was gathered that the children of the suspect's landlord first discovered the human parts and swiftly reported the development to the police, who swung into action.
A search by the police detectives, it was gathered, resulted in the discovery of human parts and other items suspected to charm and human blood.
Reports said that the suspect, who is suspected of being a 'yahoo boy' (internet fraudster), confessed ownership of the strange items found in his possession.
He, however, reportedly claimed that he bought all the items from his herbalist, who resides in Ikirun, Ifelodun local government area of Osun State.
The report also said that Akinyosuyi owns a boutique in the community.
"The suspect was challenged by his landlord for keeping a bag in a corner of the compound; the landlord became suspicious and asked the young man to open the bag; when he did, a human skull was found in the bag.
After he was arrested, he claimed it was given to him by a Native Doctor in Osun State to enhance his Business. An investigation is ongoing, and the suspect is in custody," the police command spokesperson, Funmi Odunlami, told journalists when she was reportedly contacted.
Odunlami added that "When the bag was opened, the bag had a box, and the skull was found in the box."