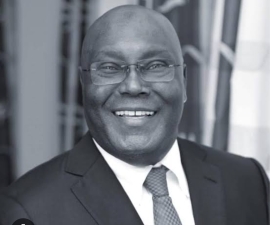 Security
Police arrest suspected terrorists in Atiku's home 
CITIZENS COMPASS – Adamawa  State Police Command on Monday, said it has arrested two suspected terrorists around the Yola home of the Peoples Democratic Party (PDP) presidential candidate, Atiku Abubakar. 
The Command said the duo were arrested on Sunday and handed ovee to the military for investigations. 
Spokesperson of the Command, SP Suleiman Nguroje disclosed this to newsmen. 
He said some civilians around Atiku's house who sighted a particular man, Jubrila Mohammed, and became doubtful of his mission, had taken hold of him and handed him to the Police.
According to him, the police started immediate questioning and the suspect indicated a second person in an apparent plot against Atiku, following which that other person was also picked up. 
He said the suspects had been handed over to the 23rd Army Brigade for further action.
He explained that since initial evidence indicated terrorism, the Police could not do anything further with it, hence the transfer of the case to the military.
Yes, one Jibrilla Mohammed was arrested at the residence of the former vice president in Yola, and while interrogating him we got to arrest his accomplice.
"We have handed them over to the military, because their attempted crime is terrorism in nature," he said.
Atiku, the candidate of the Peoples Democratic Party in the 2023 presidential election, is the 2023 presidential election, is currently challenging the election of President Bola Tinubu at the Presidential Election Petition Tribunal; after losing to him in the February 25 poll.
A former aide to Ex-President Goodluck Jonathan, Reno Omokri earlier today (Monday) disclosed on his Twitter handle that there was a threat on the life of former vice president Atiku.
He said, "Yesterday, Sunday, July 23, 2023, at about 9 PM, a man acting suspiciously was detected at Waziri Atiku's residence in Yola. Due to his erratic behaviour, he was accosted and restrained. The suspect, Jubrila Mohammed, was immediately taken to the police station and interrogated.
"During his interrogation, he confessed to being a member of the dreaded Boko Haram sect. He revealed a plot to bomb Waziri Atiku's residence, along with faculties at the American University of Nigeria, Yola, as well as the Modibbo Adama Central Mosque.
"The suspect is now with the State CID of the Adamawa Police Command. 
"I, Reno Omokri, call on the police to conduct a full and proper investigation. Beyond that, the Federal Government is put on notice to heighten security around Waziri Atiku Abubakar.  
"This incident is too serious to be treated with levity, especially with the state of the nation. This could be more than meets the eye. Nigerians need to know what is actually going on."