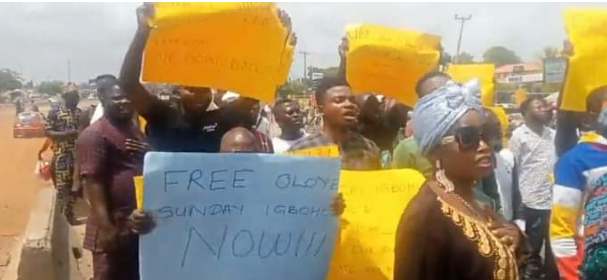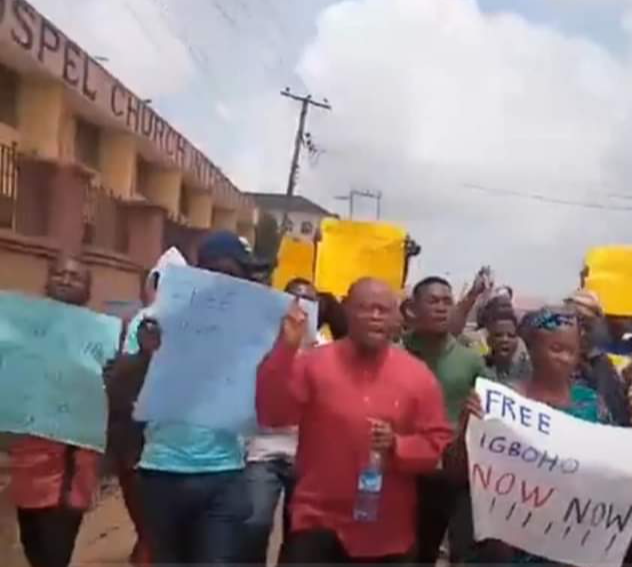 Scores of protesters against the arrest of the Yoruba Nation agitator, Chief Sunday Adeyemo, popularlly known as Sunday Igboho on Wednesday, were dispersed by some armed Policemen in Ibadan, Oyo State
The agitator was arrested in Cotonou, Benin Republic.
The protesters who converged on the agitator 's house at Soka at about Noon, were said to have marched to Soka Bus Stop along Lagos-Ibadan Expressway where they sang and demanded hid release.
The protesters males and females were armed with placards bearing various inscriptions as they called on Yoruba leaders and the international community to fight for the release of Igboho.
Few hours into the protest, some armed Policemen in four patrol vehicles were said to have arrived the scene and disperse the protesters.
Similarlly, some Yoruba nation agitators in Cotonou, Benin Republic, have held a peaceful demonstration outside the Supreme Court where it is believed that the extradition hearing of Yoruba activist, Sunday Adeyemo (Igboho), will be held.
Spokesperson for the agitator, Olayomi Koiki, shared footage of the protest on on a live programme.
Both protests were said to be peaceful.