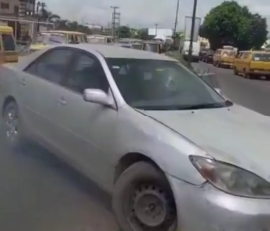 Security
Police explain assault on man who refuses to release his phone
... suspect abandons car at scene
CITIZENS COMPASS – FORCE Public Relations Officer, Olumuyiwa Adejobi has called for an investigation into a viral video capturing some policemen assaulting a man who refused to release his phone to them.
The spokesperson reacted in one of his tweets on Wednesday, May 3, 2023, sharing a video of officers assaulting a man. 
The video was captioned, "No drugs nothing , no evidence. Why asking for phone for no reason? I don't know why #PoliceNG #BenHundeyin."
Reacting to the video the force spokesperson said, "Ben, fish out these policemen for investigation. We need to look into this. And the victim should send an sms to me, personally as I need some info from him or them. I am interested in this disgusting scene/drama. Thanks."
Reacting, spokesperson, Lagos State Police Command, Benjamin Hundeyin said, " On Wednesday, May 3, 2023 at about 1400hrs, the duo of Bamigbose Kabiru and Toheeb Bakare riding in a Lexus ES350 along Old Abeokuta Road, Agege ran into heavy traffic. Out of impatience, they diverted to the other side of the road, driving against oncoming traffic.
" Upon sighting the police ahead, the driver switched off the ignition right in the middle of the road and ran away with the key. The other passenger too ran away. Thinking of how to get out of the mess, the passenger spinned a story, falsely accusing the officers of demanding to search their phones. The police officers  attempted to effect an arrest which the driver violently resisted. The vehicle was successfully towed to the station. 
" Had they been truly asked to surrender their phones for search, why then the need to run faraway from their car? Running away after a traffic violation definitely raises suspicions. 
" Meanwhile, incidents of assault are being investigated and anyone found culpable will be made to answer. @lagospoliceng CP Idowu Owohunwa will not tolerate assault by his men or on his men.