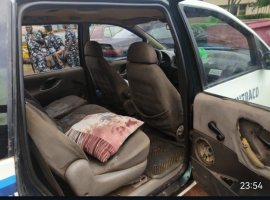 Security
Police foil illegal sit-at-home order in Enugu 
… reaffirms onslaught against criminals
CITIZENS COMPASS – THE Awkunanaw Division of the Enugu State Police Command on Friday, intercepted armed criminal elements, who were attempting to snatch an ENTRACO branded Sharon mini-van from its driver, along Agbani Road, Enugu.
In a press statement e-signed and released to the National Association of Online Security News Publishers, NAOSNP by the Command's spokesperson, DSP Daniel Ndukwe disclosed that this was in a bid to stop enforcement of illegal sit-at-home order in the state. 
According to the spokesperson, stated that, "In its avowed commitment to ruthlessly deal with unrepentant subversive criminal elements, who may want to enforce the prohibited illegal sit-at-home order in Enugu State. 
" Police Operatives serving in Awkunanaw Division of the Command, in the morning hours of today, 07/07/2023, intercepted armed criminal elements, who were attempting to snatch an ENTRACO branded Sharon minivan from its driver, at One-Day, along Agbani Road, Enugu."
" The gallant and eagle-eyed Operatives engaged the miscreants in a gun duel, forcing them to abandon the vehicle and narrowly escaped with varying degrees of fatal gunshot wounds, due to the superior firepower of the Operatives. An intense manhunt for the hoodlums is ongoing."
"The vehicle, with copious blood stains on the seats and other items therein, was recovered, and after a thorough search conducted, the following exhibits were recovered: one (1) AK-47 rifle with a magazine loaded with nineteen (19) rounds of live 7.62 calibre of ammunition, two (2) bottles of petrol bomb, one (1) hammer, one (1) plyer and one (1) Jack-knife. Other items recovered include a pair of canvass with blood stains abandoned by one of the escaping miscreants, fetish objects, one (1) mobile phone, three (3) criminal hoods, one (1) hooded long sleeves, another without a hood and other incriminating exhibits."
Meanwhile, the Commissioner of Police, ,CP Ahmed Ammani, fdc, while commending the gallant Operatives, has reaffirmed that the Police and other Security Forces shall remain focused, sustain the ongoing onslaught against the subversive criminals and ensure that the good people of the State continue to go about their lawful businesses without fear of any kind.
Accordingly, the Commissioner has called on citizens of the State, especially owners of medical facilities and those residing within the Awkunanaw, One-Day, Topland and Achara Layout axis of Enugu metropolis, to promptly report to the Police, anyone, dead or alive, sighted with gunshot wounds.