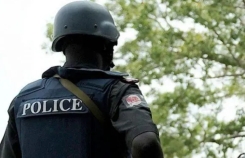 Security
Police kick against lawlessness as Tribunal delivers verdict on Wednesday 
CITIZENS COMPASS —THE Nigeria Police Force on Tuesday, September 5, 2023, says it will not tolerate breaking down of law and order across the country as the Presidential Election Petition Tribunal (PEPT) delivers it verdict on Wednesday. 
It said it  has strengthened its deployment across the length and breadth of Nigeria. 
Force spokesperson, Olumuyiwa Adejobi disclosed this in a statement. He said, "The Police wish to reiterate the commitment to ensuring the safety of lives and property before, during, and after the judgement. 
" The NPF has diligently emplaced all necessary deployments and security measures during this critical period as officers and men are fully prepared to maintain order and fully prepared to maintain order and enforce laws while respecting the rights and freedoms of all citizens.
"Furthermore, the NPF strongly cautions all individuals, including mischief makers and political gladiators, to be cautious in their actions and statements as the Force will not condone activities capable of inciting violence or causing a descent into anarchy. It is imperative for all citizens to embrace peace and maintain calm, regardless of their political affiliations, to ensure a peaceful and secure environment.
"The Nigeria Police Force is dedicated to its duty of protecting and serving the Nigerian people and is committed to carrying out these roles with professionalism, impartiality, and utmost dedication. Together, we can ensure a peaceful and secure environment for all during this period."