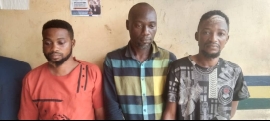 Crime
Police nab three suspected 'One Chance' robbers in Ogun 
CITIZENS COMPASS – Ogun State Police Command has arrrsted three suspected 'One Chance' robbers who have spare headed series of bus robberies in Sagamu and its environs before now.
The suspects, Ayomide Akerele, Yinka Olanipekun and Olatunde Olapadewere said to be apprehended by SP Ibiyeye Bolaji Hakeem, the Divisional Police Officer (DPO) of SAKURA. 
Spokesperson of the Command, SP Omolola Odutola disclosed the arrest in a statement on Monday, July 24, 2023. 
Giving the details about the arrest, she said, "Earlier in June, a similar occurrence took place, which made SP Ibiyeye Bolaji Hakeem to use most of the victim's account, to ambuscade, together with the cooperation of the road transporters to succeed in this arrest, but the victim's narration of July Bus Robbery paid off. 
"The suspects modus operandi was to pick passengers at garages and after few minutes into the journey, the syndicates would demand for their passengers valuables, disposess them of their ATM cards, they even order their victims to transfer money into an account from the victims' account, they also make their passengers swear to a fearful statue that they will not reveal their ordeal to anyone else they die after which they push their victim out of a moving vehicles. 
"That was how they played out in this case, where they collected the sum of N150, 000 from Isaac Alabi and pushed her off a moving vehicle.
" The three suspects have confessed to the crime and the vehicle has also been recovered to the police station. 
"It is notable to state that the apprehended criminals, reside in Oje Beere area of Ibadan ,Oyo State, but carry out their nefarious activities in Abeokuta until the arms of law caught up them on the 24th of July 2023.
" The Commissioner of Police of Ogun State Command CP Alamutu Abiodun Mustapha, psc has been briefed and he has commended the effort of the Divisional Police Officer, to continue in that tempo, till the robbers are flushed out of Ogun State. 
" He assured of the unflinching vigilance and alertness of his policemen is ever ready to unfasten and detach crime in Ogun State."