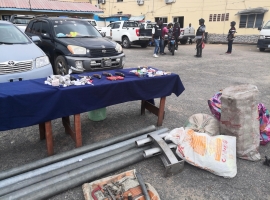 Crime
Police parade killers of Inspector, 36 others in Lagos 
… recover arms, vehicles 
By Bose Adelaja 
CITIZENS COMPASS – Lagos State Police Command on Friday, August 4, 2023, paraded 39 suspects including the killers of an Inspector, Sunday Apochi who was murdered a few days ago in Ijanikin area of the State. 
Spokesperson of the Command. Benjamin Hundeyin paraded the suspects at the Command's Headquarters, Ikeja before newsmen. 
The suspected killers who were three in number, were identified as Igboro Rasheed 'm' age 39 yrs, Rasak Adeleke 'm' 30 years and Moses Victor 'm' age 23 yrs all of Ijanikin, Lagos State. 
He said the suspects were arrested after the police launched "Operation Flush" on July 27, 2023.
According to him, the paraded suspects were arrested for various crimes including; armed robbery, cultism, murder, illegal possession of firearms, vandalism, stealing and counterfeiting of Nigerian and foreign currencies.
Recall that rampaging cultists in the Ijanikin community and its environs reportedly killed the 38-year-old police Inspector attached to Zone 2, Police Command, Onikan Lagos.
He was murdered,at about 8.p.m.by the notorious Aiye confraternity members in front of police quarters, Alasia, Ijanikin.
Police immediacy activated a man-hunt which led to the arrest of the suspected killers. 
It was learned that the father of three, who hails from Otukpo Local Government in Benue state, enlisted into the Nigerian police force in 2004.
Hundeyin said the operation was launched to tackle pockets of crime that were resurfacing in parts of Lagos State and support existing frameworks for battling violent crimes like robbery and cultism amongst other vices. "Today, we are proud to update Lagosians on the achievements the new operation has achieved under the meticulous stewardship of the Commissioner of Police, CP Idowu Owohunwa.
" Before you today we have a total of 39 suspects who have engaged in varying crimes including murder, armed robbery, stealing, cultism, vandalization etc.
" From all these cases which we successfully cracked, we recovered a total of six arms, twenty-six live ammunition, two expended ammunition, one  battle axe, four vehicles, hard drugs, counterfeit currencies, wrist watches, phones, knife, aluminum rails, etc
On the suspected killers of the Inspector, tbe spokesperson said, "This deals with a case of Conspiracy and Murder of INSP Sunday Apochi, 'm' attached to the Zone 2, HQ Onikan, Lagos, reported by one Insp Simeon Ishaiah of the CP Tactical Team, attached to the Area 'H' Ogudu Lagos, against three suspects namely: one Igboro Rasheed 'm' age 39 yrs, Rasak Adeleke 'm' 30 years and Moses Victor 'm' age 23 yrs all of Ijanikin, Lagos State. "The fact of the case is that on 23/07/2023, at about 2030hrs, at the aforementioned address the suspects being members of the 'AIYE' Confraternity led by one Sulaimon Abass during a fight, shot the deceased with a locally made rifle and thereafter used a battle axe on him before he gave up the ghost. The case is still under investigation."
Another offence wortby of mentioning is that of counterfeit currencies which the spokesperson gave the breakdown thus," One Emmanuel of Trade-Fair Complex Lagos reported against one George Ebukeebuna 'm', 56 yrs, who specialized in counterfeiting currencies allegedly came to their office with wrapped parcel to be sent to Congo Kinshasha. 
" After unwrapping the contents to ascertain the contents, it was discovered to be two-hundred and forty-five (245) fake $50 notes. Suspect has since confessed to the crime and will be arraigned soon."