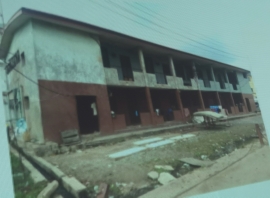 Security
Police to reconstruct, modernise 25 barracks in Lagos
CITIZENS COMPASS – THE Nigeria Police Force, on Wednesday, May 3, 2023, said it will pull down 25 distressed police  barracks in Lagos State and reconstruct them putting modern touches. 
The Inspector General of Police, Usman Alkali Baba, disclosed this while addressing the press at Lagos State Command Headquarters in Ikeja. 
Represented by Spokesperson, Force Headquarters, CSP Olumuyiwa Adejobi, the IGP said the project will be in partnership with Lagos State Government. 
The spokesperson said that the IGP has issued a directive that the present occupants of the distressed barracks be issued a one-month notice to temporsrily vacate their apartments  pending when the project will be completed. 
He said the Police will facilitate payment for the temporary accommodation. 
The affected barracks are Ijeh Police Barracks, Obalende Highway Police Barracks, Ikeja, K9 Police Barracks, Keffi Street, South-West, Ikoyi, Falomo Police Barracks (A and B), Ikoyi, Bar Beach Police Barracks, Victoria Island, MOPOL 20 Barracks, Ikeja, Women Police Barracks, Obalende and MOPOL 2 Police Barracks, Keffi Street, South-West, Ikoyi.
Others are Mounted Troop, Ribadu Road, Ikoyi and Queen Barracks, Apapa
Others are " FPRO Annex Office and Barracks, Ijora Olopa, Iponrin Police Barracks, Surulere, Adekunle Police Barracks, Yaba, Federal Highway Patrol Office, Yaba, Alausa Police Barracks, Ikeja, Mounted Troop, Ikeja, Okesuna Police Barracks, Obalende, Mc Carthy Barracks, Obalende, Force Headquarters Annex, Obalende, Obalende Police Barracks, Obalende and Bourdillon Police Barracks, Ikoyi. New Staff Quarters, Ikeja, Elere Police Barracks, Agege, Onikan Officers Mess, Ikoyi and Police Special Fraud Unit (PSFU), Milberton Street, Ikoyi."
He said, " In full compliance with the Lagos State Government's recommendations on 
the poor condition of some Police Barracks that do not match up to the 
structural integrity test, the Nigeria Police Force (NPF) has deemed it 
necessary to carry out the demolition, redevelopment, and reconstruction of 
25 Police Barracks and facilities in Lagos State. 
"The Inspector-General of Police has announced plans for a series of 
sensitization and relocation efforts for police personnel living in the affected 
barracks between the dates of Monday 1st May and Wednesday 31st May, 2023.
' 'Furthermore, the Inspector-General of Police has issued a directive that those living in these Barracks be issued a one-month notice to vacate their accommodation spaces. This directive will not be carried out all at once, but will be implemented gradually in phased stages to ensure that all officially recognized and lawful residents of the affected Barracks are properly catered for.
" The IGP's directive is that all currently residing and legally seated residents of any of the affected barracks will receive a maximum sum of money equaling the rental cost for the location of their barracks for two years. Upon the successful curation and completion of these living arrangements, a formal notice to vacate will be issued.
" Adejobi also stated that "The IGP has provided an assurance that all officers who are in active service and living in these barracks legally, shall receive the keys to the new structures upon completion of the development of the improved housing area.
"The revolutionary drive of the Nigeria Police Force to redefine the physical landscape and outdoor environment of Police Barracks and other facilities in Lagos State is a clear-cut effort to modernize the current facilities, as well as create a conducive environment for officers to carry out their duties and responsibilities with honour and self-esteem, " 
Fielding questions from journalists, he assured that assuming the projects could not be completed within the time frame, the force would renew the rents till the barracks are completed.
Adejobi noted that government is continuum, therefore, the projects will be completed.