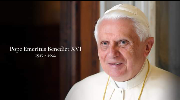 CITIZENS COMPASS– FEW weeks after he tendered his resignation letter as Pope Emeritus Benedict XVI, the German theologian has died at the age of 95.
The Vatican said he died on Saturday at about 9.34am.
A statement from Vatican spokesman Matteo Bruni said: "With pain I inform that Pope Emeritus Benedict XVI died today at 9:34 in the Mater Ecclesia Monastery in the Vatican. Further information will be released as soon as possible."
Pope Benedict XVI will be remembered as the first pope in 600 years to resign from his position.
In an interview with the Spanish daily ABC, Pope Francis revealed that at the beginning of his pontificate, he gave the then-Secretary of State, Cardinal Bertone, a letter declaring he would step down in the event of serious and permanent health impediments that made it impossible for him to exercise his role as Bishop of Rome and pastor of the universal Church.