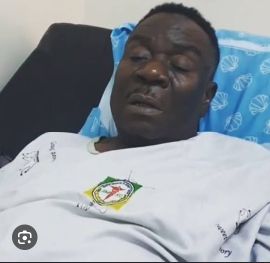 Health
Popular actor, Mr Ibu completes two surgeries 
CITIZENS COMPASS —Popular actor, John Okafor, popularly known as Mr. Ibu,is responding to treatment after he successfully completed two surgeries in the hospital. 
His adopted daughter, Jasmine, shared the information in an Instagram post on Tuesday, October 25, 2023.
Mr. Ibu had previously reached out on social media seeking financial assistance for his medical needs. He was diagnosed with a critical illness and was in need of urgent surgery. His fans and colleagues rallied round him, providing the financial support he needed.
Mr. Ibu's daughter commended his remarkable resilience in the face of his health challenges. She said that even after two major surgeries, he managed to maintain his sense of humor. She is optimistic about his recovery and believes that he will emerge from this situation even stronger and healthier.
Mr. Ibu's daughter is particularly excited to see his improved condition after three weeks of challenges. She encouraged him to keep fighting and return to good health.
Never seen anyone so strong… even after two major surgeries, you were still trying to be funny like nothing happened, even in your lowest you still cracked jokes!"
she wrote.
"I promise you, if there's a God in heaven, you are getting out of this bed, stronger and alive. This is the strongest I have seen you in 3 weeks and I'm so excited! Fight this and get well soon, sweet papa."
Mr. Ibu's fans and colleagues are wishing him a full and speedy recovery.