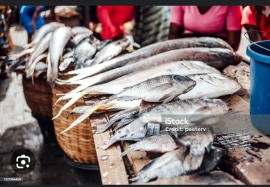 Community
Price of fish increases from N10, 000 to N15, 000
... Protests hit Sagamu
CITIZENS COMPASS —A cross section of women, believed to be fish sellers in Sagamu area of Ogun State, on Wednesday, November 1, 2023, stormed the streetz to protest against what they described as 'frequent hike' in prices of fish.
The demonstrators, who marched through Makun road, to the palace of Akarigbo of Remoland, armed with placards and chant solidarity songs, demanding an immediate action to alleviate the economic hardships facing the people.
The protesters called for an enhancement of social welfare interventions, emphasizing that government must do more to address the increasing poverty levels in the country.
According to viral videos circulating on social media, the protesters expressed their dissatisfaction with the government's efforts in alleviating poverty and controlling the surge in prices of essential commodities.
A source within the Awolowo market in Sagamu, revealed that the protest was organized by fish traders from various markets in Sagamu, who were particularly concerned about the skyrocketing prices of fish. 
They also highlighted the substantial increases in food and commodity prices, which seemed to be disproportionately affecting Sagamu residents.
One of the protesters, a market woman, passionately conveyed the frustration of many, saying, "The way they are adding everything to something is too much. What is happening? 
"This is Sagamu right now. Titus is now two thousand Naira, while Sawa is one thousand Naira. 
"Is that not too much? We are not doing this for ourselves; it is not as if we cannot buy it, we are protesting so that the prices can be reduced. 
"Won't the people eat? Imagine not being able to cook a pot of soup with two thousand Naira.
"A fish bought for N1,200 naira has suddenly become N1,800 naira".
Deji Soyemi, who is a cold room business operator also expressed concern about the increase in fish prices, pointing out that " for instance a carton that sold for N10,000 naira might now cost N15,000 in just two days.
Otunba Bamidele Nelly, another coldroom operator, attributed the high price of fish to the forex crisis. 
Dollar has gone up against the Naira and when it comes down very soon, the prices will come down too. I made them understand that these fishes are imported and the importation is done with forex, once the exchange rate goes up, there will definitely be an increase in prices of things imported with it.
"I let them understand that this problem is not to be blamed on the new government, it is what he met on ground and he is not willing to continue to borrow money unnecessarily, he has been doing a lot and carrying us along, so I have that belief that very soon things will go back to normal because he is really working hard to strengthen so many things in the country. "
The protesters urged Ogun State Governor, Dapo Abiodun to intervene.