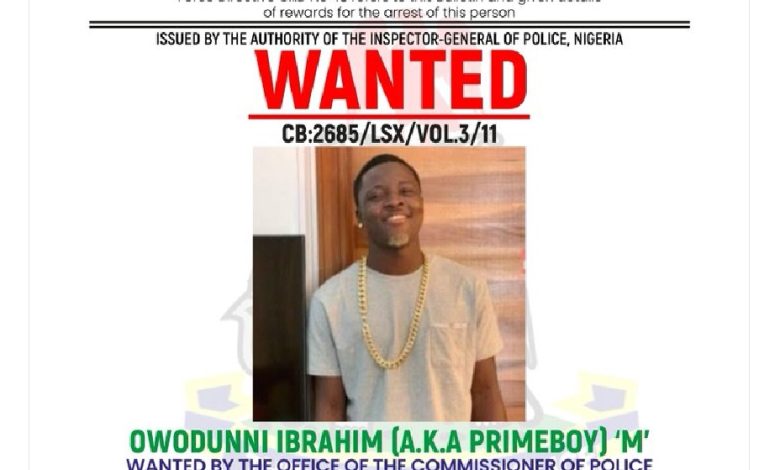 News
Primeboy surrenders to Police, says he didn't get Police invite 
CITIZENS COMPASS —Owodunni Ibrahim popularly known as Primeboy has surrendered himself to the Police for interrogation over the death of the Nigerian singer, Ilerioluwa Oladimeji Aloba, popularly known as Mohbad.
Spokesperson, Lagos State Police Command, Benjamin Hundeyin, confirmed this on Thursday. 
The Command had on Wednesday declared Primeboy wanted following his failure to honour Police invitate successfully sent to him since the commencement of investigation into the circumstances leading to the death of Mohbad.
On Thursday, Hundeyin shared on his X handle (formerly Twitter) to announce that Primeboy is now in the Police custody. He said, "Following his being declared wanted, Owodunni Ibrahim Oluwatosin, aka Primeboy, has turned himself in," he wrote.
"He has immediately been taken into custody for interrogation and other necessary actions."
Hundeyin added that the Lagos State Police Command once again assures family, friends and fans of Mohbad and members of the public that no stone will be left unturned in ensuring a most diligent investigation.
"The Command equally assures that all persons found culpable in the death of Mr Ilerioluwa Aloba aka Mohbad will definitely be brought to justice," the Police spokesman said.
However, Primeboy refuted the claim that the Command invited him before declaring him wanted.
Primeboy who was afriend to Mohbad, was declared wanted for allegedly refusing to honour police invitation over the circumstances that led to the death of former Marlian records' signee.
Speaking with a private television station, TVC, before turning himself in on Wednesday, Primeboy said that he was never invited by the police adding that he tried to visit the police station to clear his name when people were tagging him to the death of his late friend.
He declared, "I have never received a message of invitation from the police, it is a big lie that I did. Before this issue of declaring me wanted sprang up, I had wanted to explain myself at the station after people started accusing me of killing Mohbad.
"The people I reached out to including my lawyer, advised that I should wait for a police invitation rather than going there to explain myself. So it was a shock to see that the police had declared me wanted for N1 million to anyone who knew my whereabouts."
While fielding questions on whether he was with Mohbad on his last show and if they had a brawl, Primeboy said they truly had issues but it was as a result of the misunderstanding he had with his wife while in the car with them on the day he went for his Ikorodu show.
"He (Mohbad) was trying to alight from the car when the issue between him and his wife heated up. But I stopped him, advising that it wasn't safe for him to do so since Zlatan was still performing. He then told me to get down from the car. And I did.
"I could tell that he was badly hurt from the way he was reacting that day," he added.
The singer now in police detention further questioned Mohbad's wife for framing him up with the late singer's death on the internet.
Meanwhile, a Magistrate Court in Yaba, Lagos State, on Wednesday, ordered that Azeez Fashola popularly known as Naira Marley, Samson Balogun Eletu alias Sam Larry and two others should be remanded over the death of Mohbad.
The Court wants Naira Marley and Sam Larry to remain in police custody for 21 days alongside Ogedengbe Fisayo and Ayobami Sadiq as investigations continue to unravel the killers of the musician.
The Lagos State Police had actually requested a 30-day detention for Naira Marley and the other individuals mentioned.
However, Magistrate Adeola Olatunbosun decided to detain the owner of Marlian records and the others for a shorter period, specifically 21 days.
Olatubosun ordered their remand in the police State Criminal Investigation and Intelligence Department (SCID) while she adjourned the case until 25 October.
She also ordered that the suspects be granted access to medicals and lawyers of their choice after being charged with conspiracy and suspected murder.
Naira Marley and Lagos socialite, Sam Larry, have become subjects of investigation regarding the demise of Mohbad who tragically passed away on September 12.